My name is Crystal Escobar. I'm a wife of 12 years, mother of 4, Lily (10), Oliver (7), Brooklyn (4), and Owen (2).

I come from a large family having 8 siblings. Growing up I moved ALOT, in fact I lost count after the 25th time. I lived in 5 different states and one other country, but Utah would be the place I call home.

After graduating from high school, I moved to Arizona for a year and attended Scottsdale Community College. Soon after, decided I wanted to serve an LDS mission. Before I left, I trained and ran a marathon – I'm, pretty proud of that! It was the first and definitely the last!

I served my mission for 18 months in Germany and I absolutely loved it. I saw some incredible things, met some amazing people and learned a few life altering lessons.

Five months after I got home, I met my husband Sean. We dated for 2 weeks and were engaged for 3 months before we tied the knot. Best decision I ever made!

My husband and I are successful network marketers, in fact we made our first million at age 27. We love to offer training and support to help others achieve the same success we have. To learn more about our success story check out www.seanescobar.com
I started this blog in November 09 to log my personal progression in finding balance and purpose as a mom.

I'm really just a Wannabe… a Wanna Be Balanced Mom.
I'm very passionate about having BALANCE — the unattainable goal.

I like to cover a wide range of topics: health, weight loss, spiritual and personal development, making healthy meals, life as a momprenuer, and of course how I TRY to balance it all.

Here is a post I did when I found myself completely OFF balance.

CAUGHT OFF BALANCE.




Come find me on Instagram @CrystalEscobar2
& Periscope @CrystalEscobar

Topics I write about include:

-Goals, and "TO DO" lists— developing talents, finding your passions, and creativity.

-Finding a balance — making time for the things you want to do, as well as what's most important.

-Staying organized — the importance of having order in the home, tips on how to organize.

-Beauty Tips –even though we're moms, we can make time to be beautiful.

-Meals — making healthy meals, on limited time and energy.

-Marriage –making it #1 priority.

–Weight loss –losing the baby weight, and keeping it off.
-Business Women –success IS possible.

-Money –budgeting and saving tips.

-Trials –overcoming them.

-Service — ways to serve, forgetting yourself, and finding fulfillment.

-Fashion –I like to post pictures of the new clothes I get and where.

Thank you all for reading.



What people are saying about Wanna Be Balanced Mom
"She is a fun, friendly blogger and has a great site. She is all about keeping balance in her life, and helping others do the same. Anytime I'm feeling a little stressed or flustered, all I have to do is poke around Crystal's page, and I come away with something new to inspire me. Go get inspired!"
"Crystal is a sweetie pie and one hot momma to boot! (She has some resemblance to Elisabeth Shue…only Crystal is even prettier). Go read her blog; she's totally relatable…and don't hate her because she's beautiful!"
– Postcards From Parenthood
"I was introduced to Crystal Escobar, the author of Wanna Be Balanced Mom through a mutual friend. I was instantly attracted to her sincere and inspirational style of writing.
She writes from the heart and shares very touching, moments, like her American Idol Moment when she put it all out there inspired by her love for her husband, and in the process, teaches us a very valuable life lesson.
She put together a Life List which is definitely a must read."
-The Busy Mom Blueprint
"I started reading her blog exactly two months ago and I instantly became hooked. Who doesn't want to learn how to balance life by combining family and healthy living?"
–Ms Baby Plan
"I met Crystal through blogging awhile back and have been hooked on her blog. She posts about pretty much anything that might be important to us moms in the quest to find balance…from beauty, fashion, health, homemaking, motherhood, spirituality and much more…hence the name of her blog Wanna be Balanced Mom. Crystal comes across as a sweet, thoughtful person who seems to be succeeding at her goal to balance it all! From her cute blog design to her pictures, videos and fun personal stories, you are sure to be hooked too! And don't forget to check out her inspiring weight loss before and after pics! I so want to try her program when I'm done nursing. This is a blog worth following!"
–Candace Creations
Read an Interview with Crystal HERE at 6 Feet Over, and HERE at The 5th Girl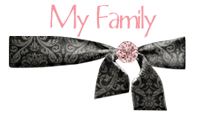 Contact me by email: crystal@escoweb.net or find me on Facebook