I've done a little more shopping ladies, but this time I have a couple fun items to offer to one of you!!! First let me tell you about this great new place called The Sweetest Thingz Salon Boutique. I got everything you see below from this place. They are located at 416 East 12300 South Draper, UT, 84020


Don't you just LOVE this lace shirt? You can wear it with anything! Over a shirt, or even under. I'm pretty much obsessed with gray and wear it all the time, it's a great color for this time of year. I meant to take a closer picture of the bracelet I got, can you see the fabric flower attached to it? I got the lace shirt for $20, the bracelet for $15, and the pants for $40. Aren't those GREAT prices?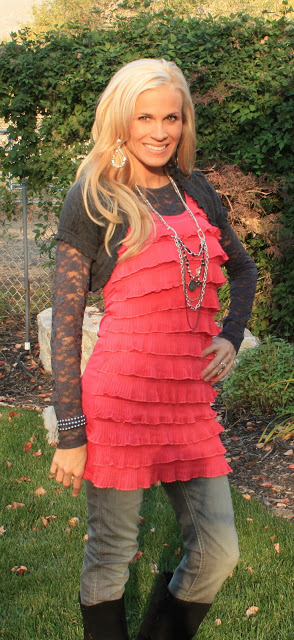 I got the pink shirt for $39, the black dress for $39, the earrings for $19 and the gray cardigan for $20.

My dear friend Ali has offered to give away the lace top, your color and size of choice AND one of these cute necklaces to go with it.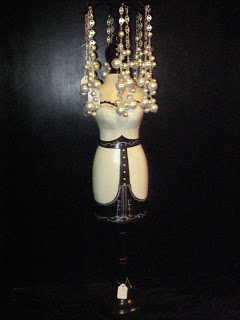 Here are a few more pics of the lace top, the different colors and how you can wear it.
This is Ali, isn't she beautiful!!!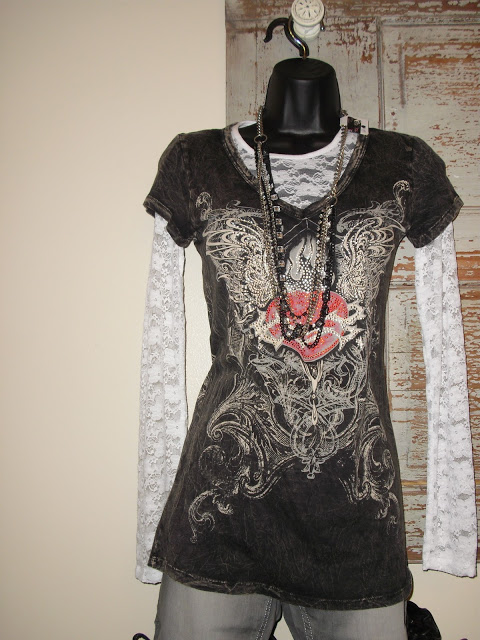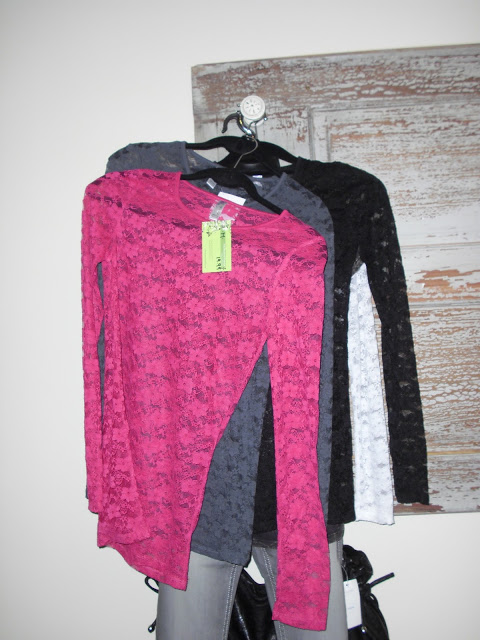 So all you have to do to enter this giveaway is leave a comment!!!! If you'd like more chances to win, you can leave an additional comment for each thing you do from the list below. Be sure to leave your email address along with your comment if it's not already public in a profile, that way I have a way of contacting you if you're the winner.
GOOD LUCK!!!!!!!!!!! I'll be choosing a winner on 11-10, using random.org. If the winner lives here locally then you can pick up your prize at the store, if you're in another state, we'll have it shipped to you.
I hope you all had a great Halloween!!! Sean and I went with the Alice and Wonderland theme this year.