This room ended up being a much bigger project than anticipated and caused a lot of stress, but of course now that it's all said and done, I couldn't be happier with the way our living room remodel turned out. So first of all I HAVE to share all the before pics, then I will show the big reveal and details of where I got everything as well as who I worked with to make this all possible.
Before we moved into this house this room was an indoor pool. So there is an empty pool right below this floor, kinda creepy if you ask me. We have a little opening in the floor where we can get down under there and have actually made good use of the space by putting our food storage down there. Who knows, maybe we'll need it as a bomb shelter one day. Let's hope not.
I will tell you about each space and provide links through out this post and will also add a list of all the links at the end of the post for your convenience.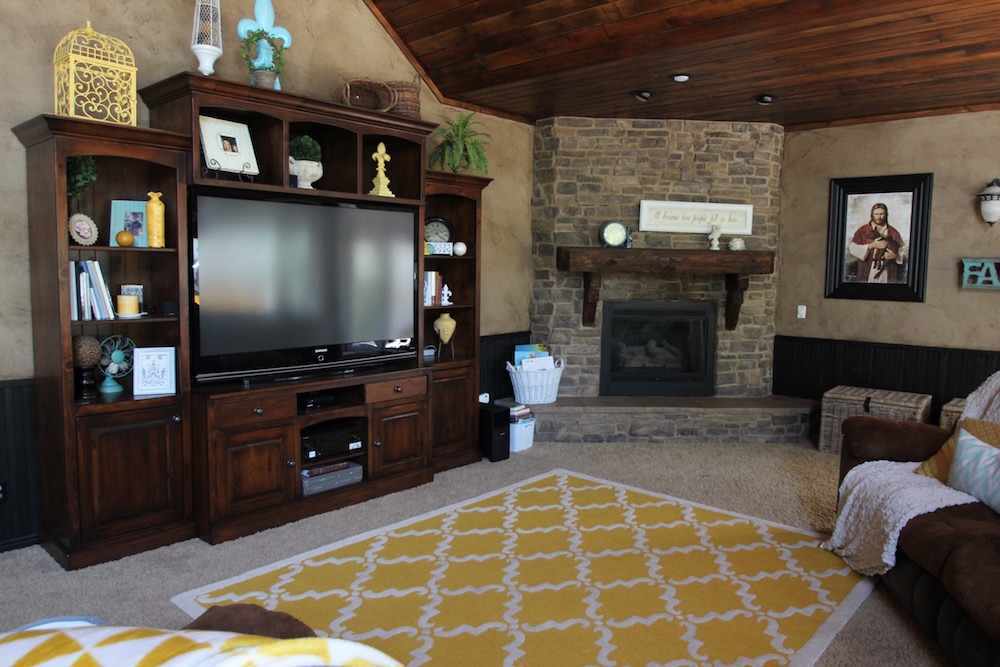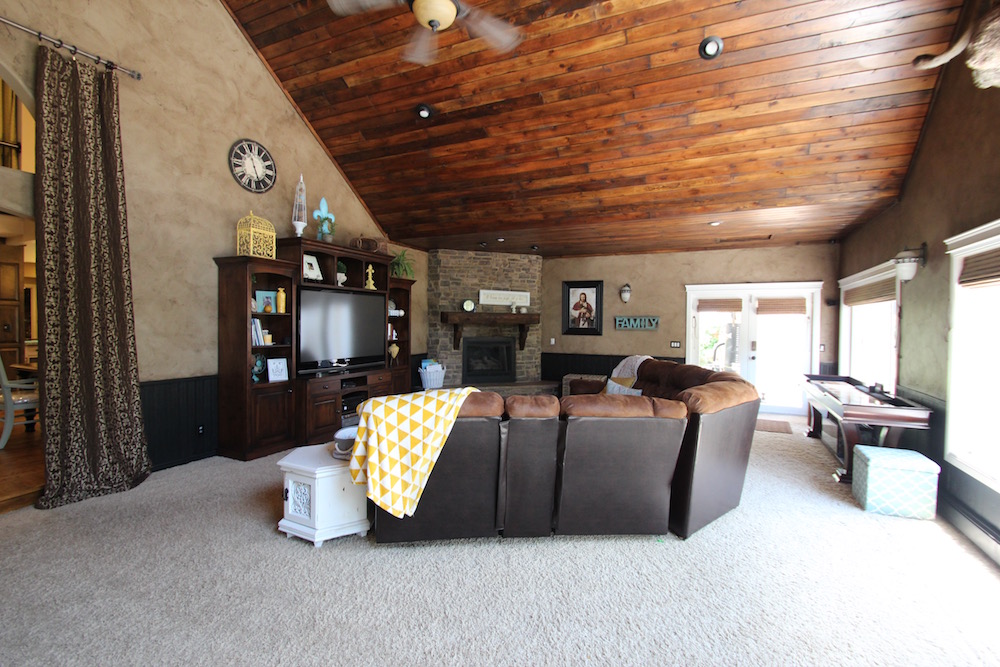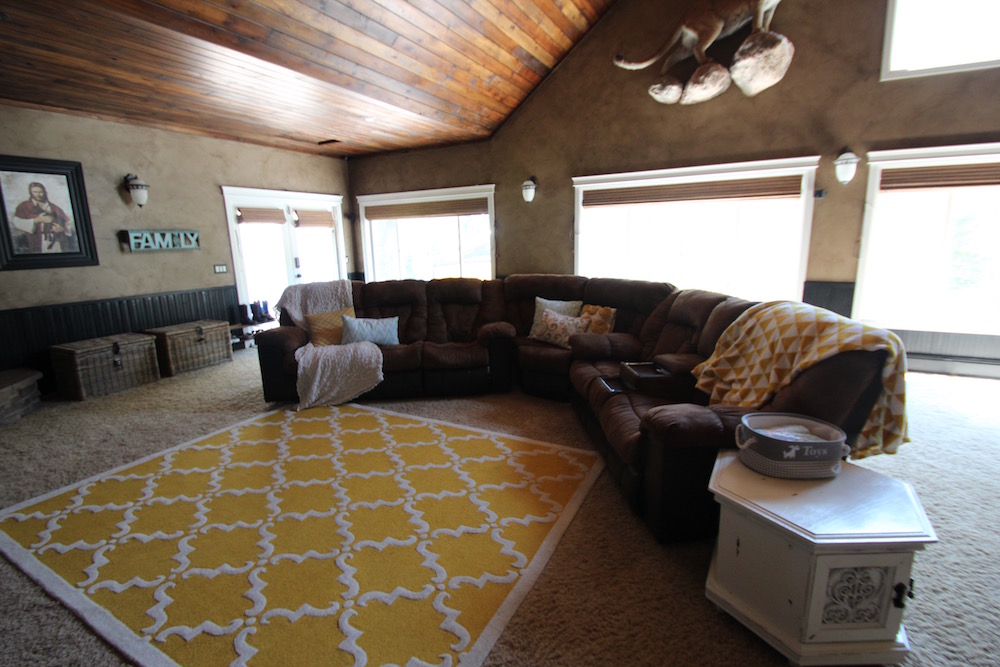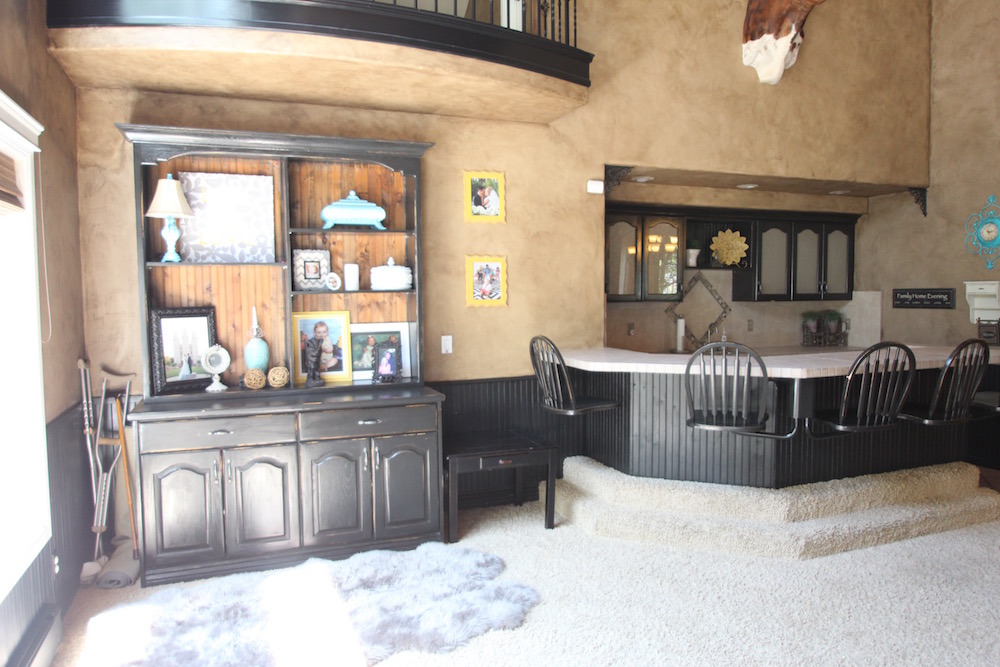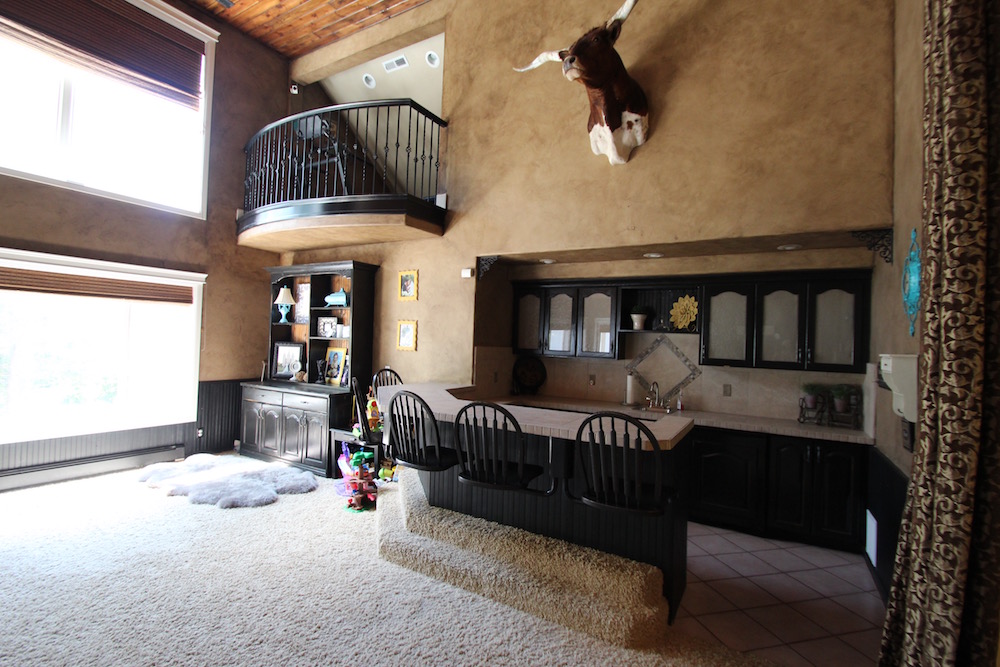 So NOW, here are the AFTER pics of our fantastic living room remodel! What do you think?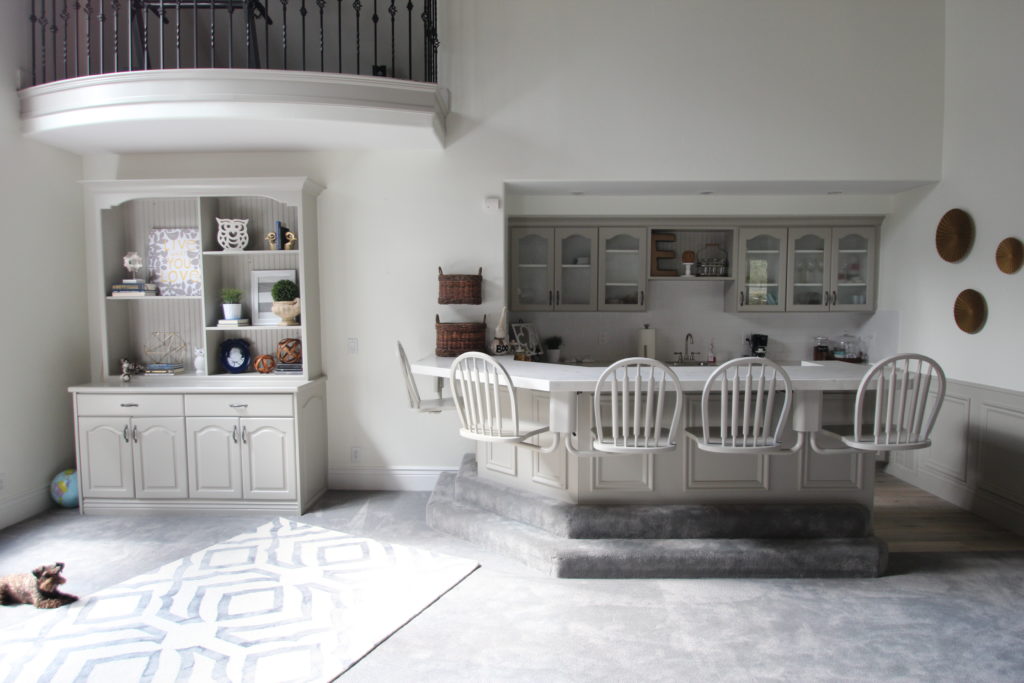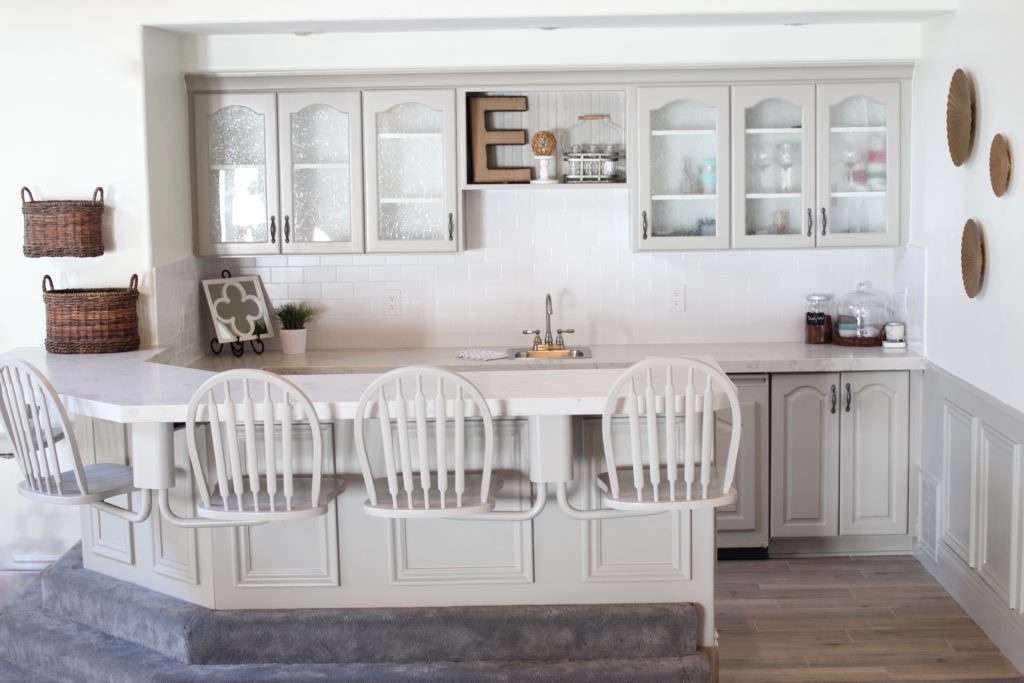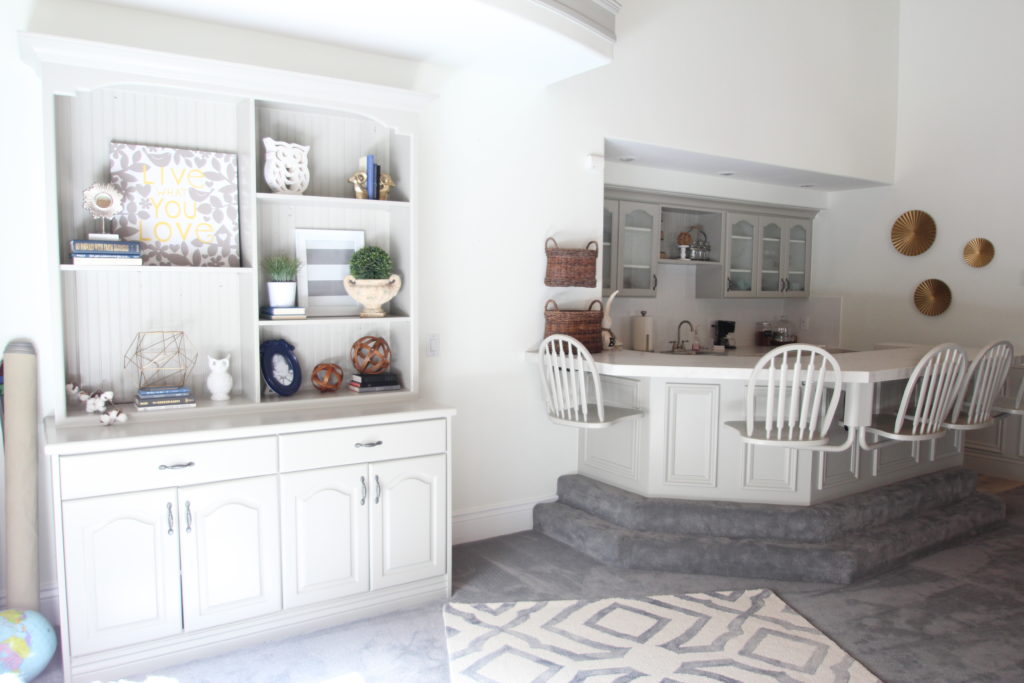 This bar has been so fun to have even though we don't actually drink alcohol. We've used it for a lot of other things though. Like for example it's been a great place to store my kombucha drinks in the mini fridge. I store toys and board games in the cabinets and even created a little tea station on the countertop, love me some tea!  Peggy and Ali were the ones who helped me choose paint colors, carpet and tile. It was so nice having the help of professional designers because all these decisions were so overwhelming to me. There are like 50 shades of gray, how do you like my humor? I actually haven't read the book or seen the movie. Anyway, Peggy and Ali were so helpful when making these decisions, took a lot of stress of my shoulders. I love the paint colors and I LOVE the tile floor and the subway tiles for the backsplash. We used Sherwin Williams Mindful Gray for the cabinets and Simple White for the walls.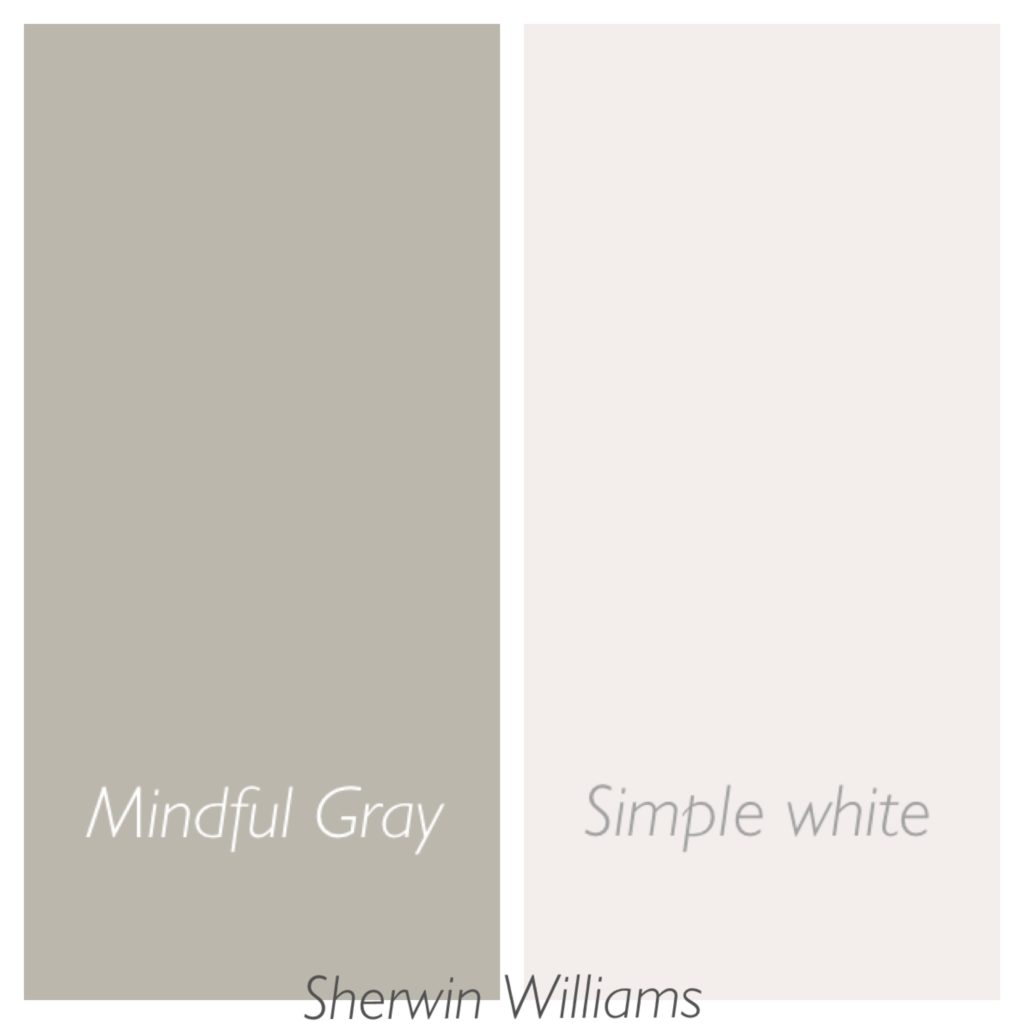 And this RUG! I just LOVE this rug from www.RugsUSA.com . I actually own like 7 other rugs from RugsUSA. They have the best selection and the BEST prices. I have a bunch at my house in St. George and a few in this house as well.
Now for the countertop. We weren't actually planning on getting a new countertop at first, but you know how it goes. Once you start a project it's hard not to go all out and do it right. So we decided to get new Quartz countertops from BedrockQuartz.com. Heather is the one in the striped shirt in this picture. She helped me pick the right color and find us the best price. So be sure to ask for her when you call Bedrock.
I was so excited with the way the countertop turned out. Beautiful white marble look without the heavy price tag. Plus Quartz is actually way less maintenance than marble.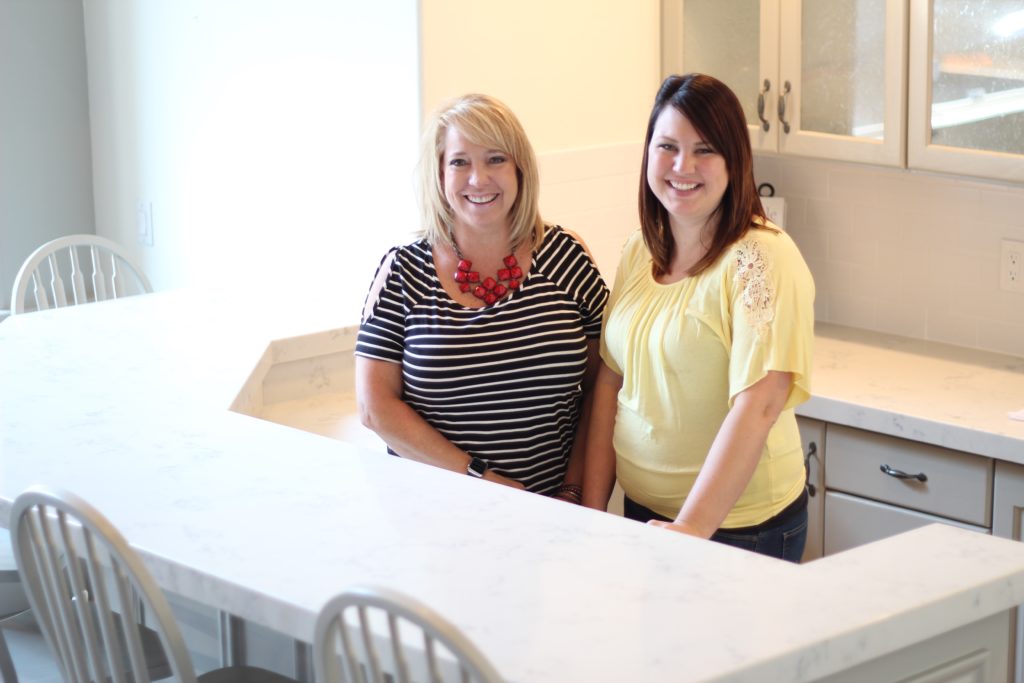 Now can we talk about this floor? I'm in looooove!!!! So cool that they make tile that looks like wood, even has wood like texture. Choosing the color of this tile was quite the process. I bought and returned the tile like 3 different times. I couldn't make up my mind. Then I finally found the perfect color and sizes. You can get the tile through our carpet guy Tony Workman WorkmanFlooring.com
And the person we had lay the tile and do the molding and other odds and end jobs is Rigo (385)249-7600. He was so great! Such a hard worker and did a fantastic job.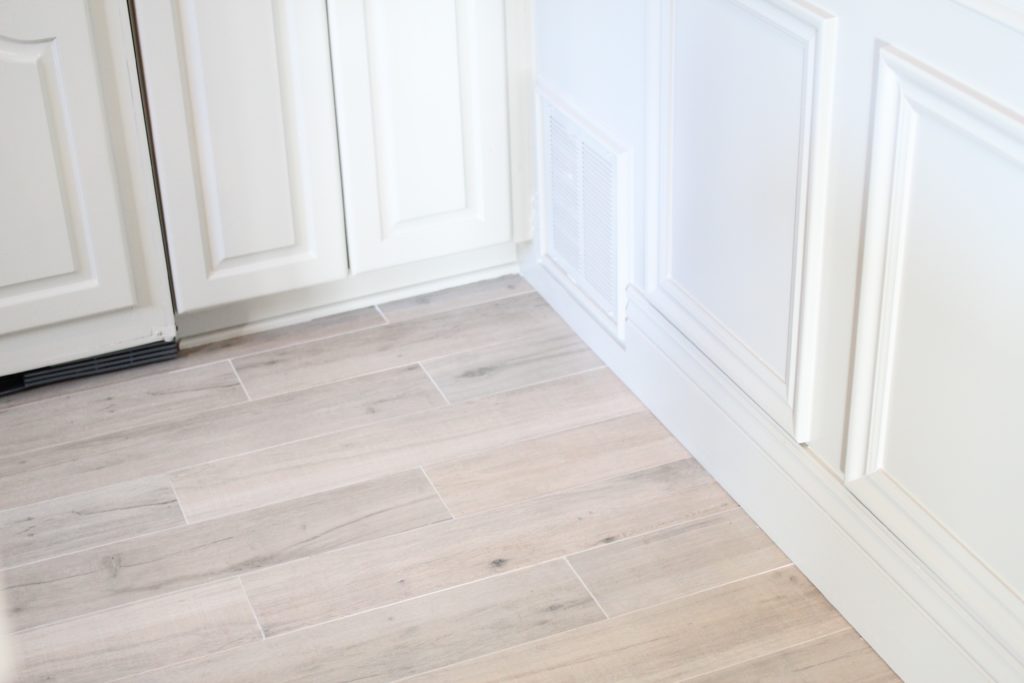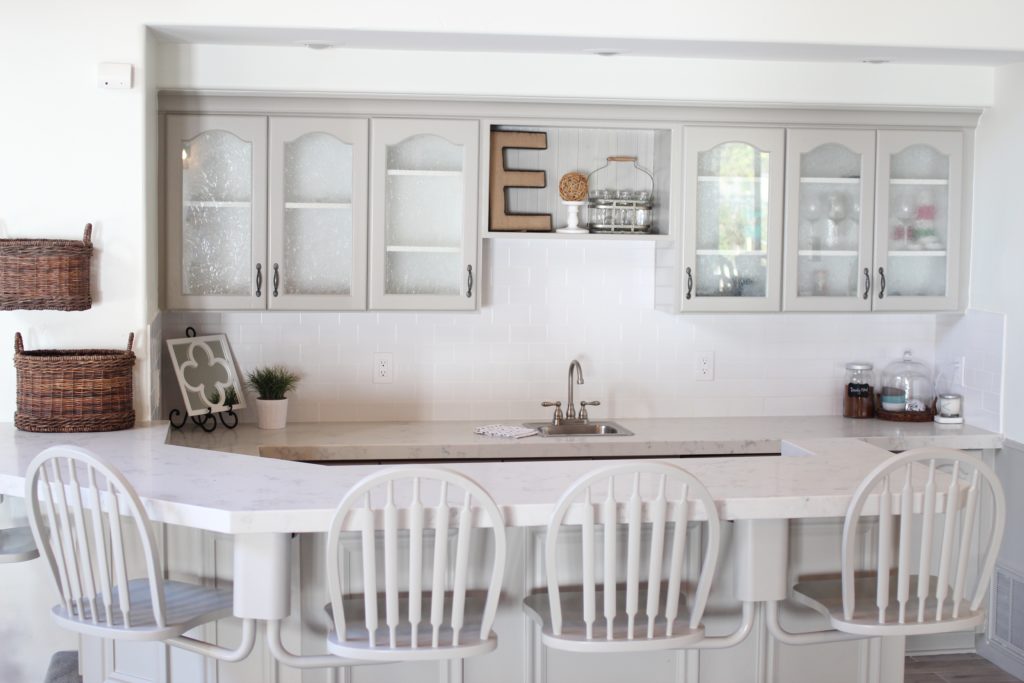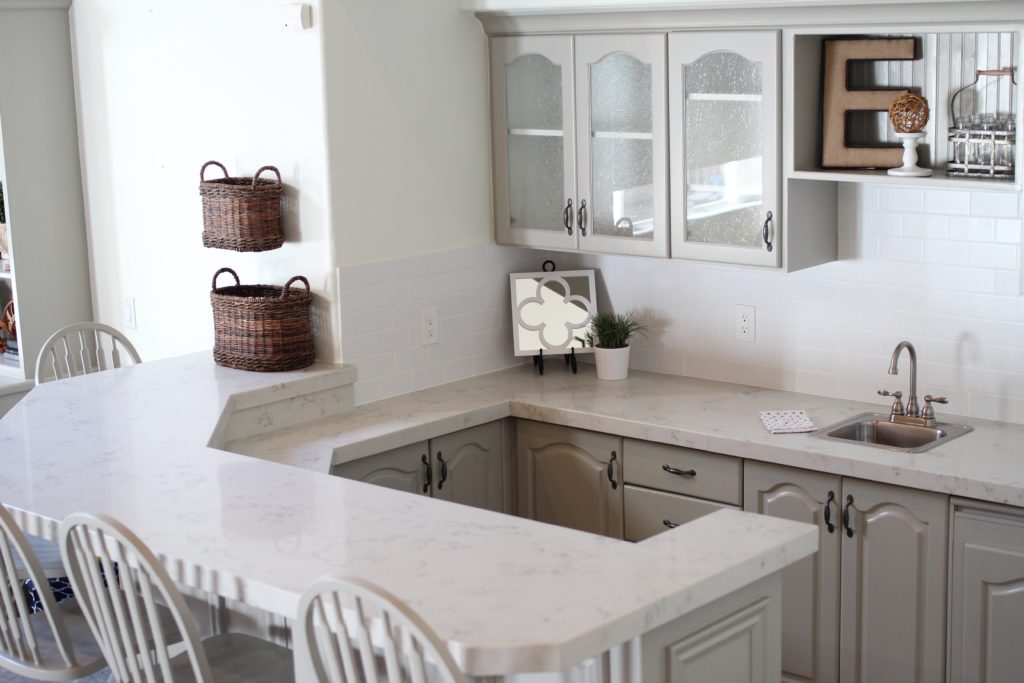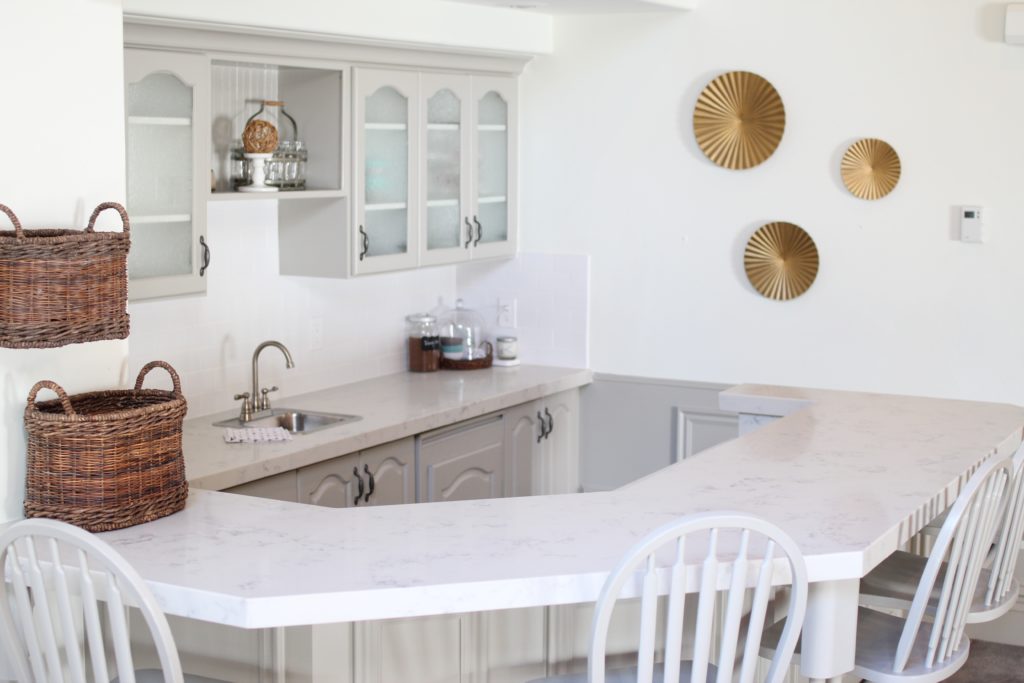 Now for the lighting. Oh how I love these wall sconces I got from Lighting Design. Lighting Design is my favorite place to go because of their huge selection. I looked at Home Depot and Lowes but nothing compares to the options at Lighting Design.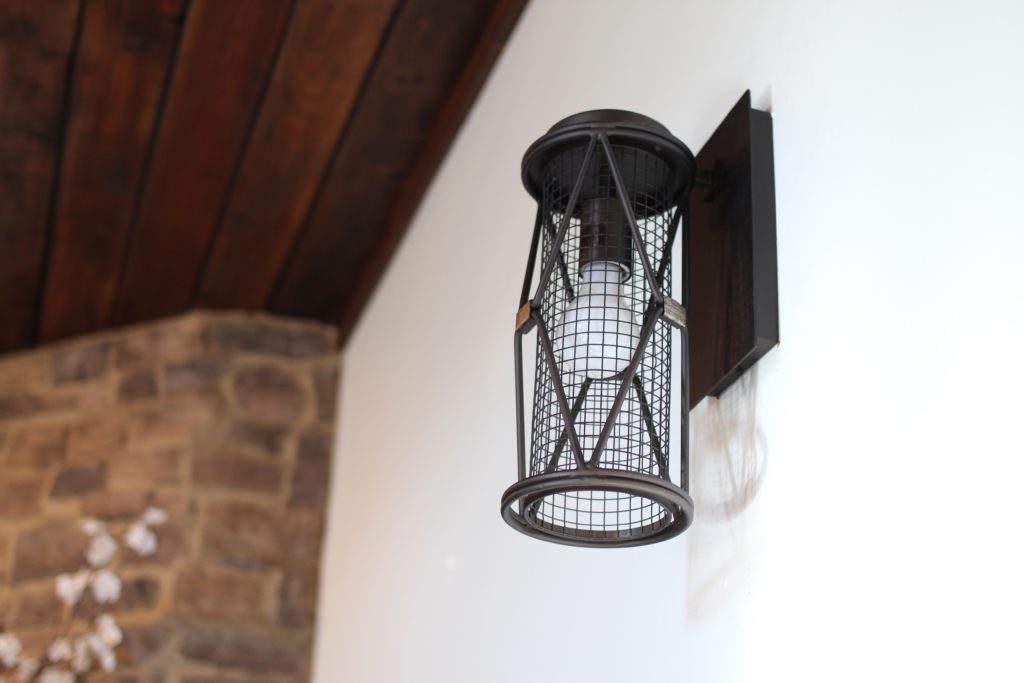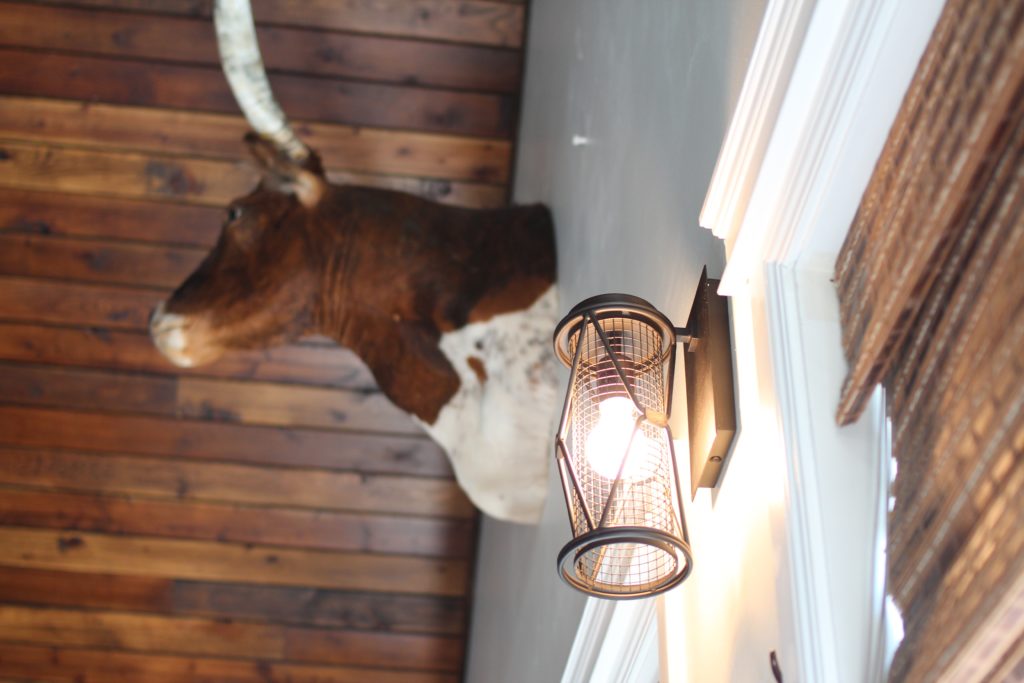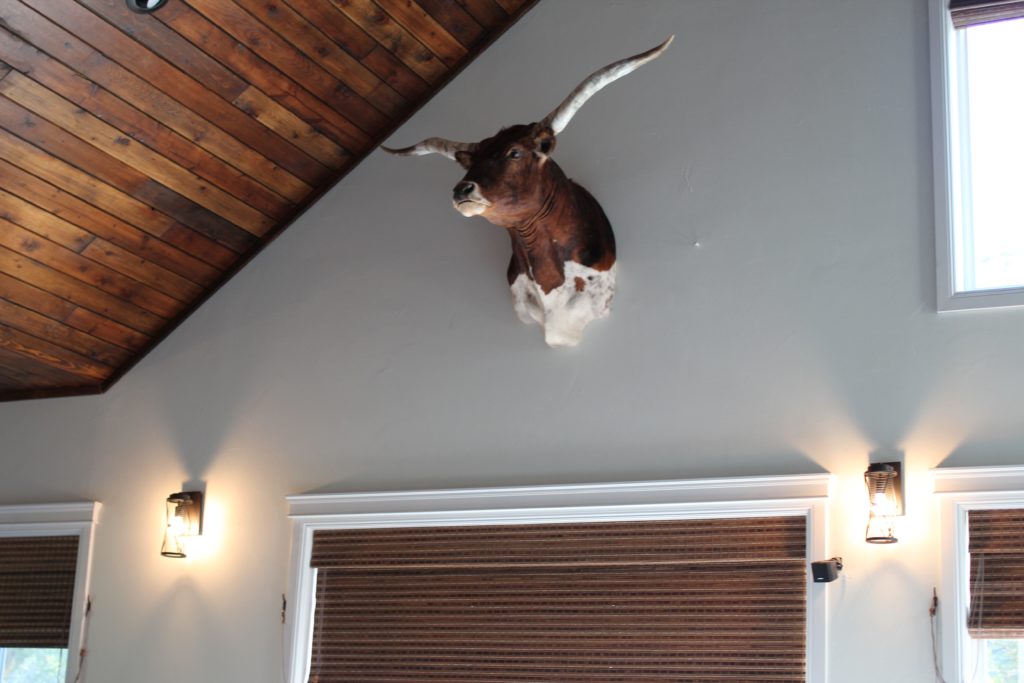 The question we get asked all the time is, did Sean kill that Texas long horn? The answer is no. He likes to hunt deer and elk, and he appreciates the art of good taxidermy. So he bought this steer and I actually love how it looks with the new paint color and our wood slat ceiling.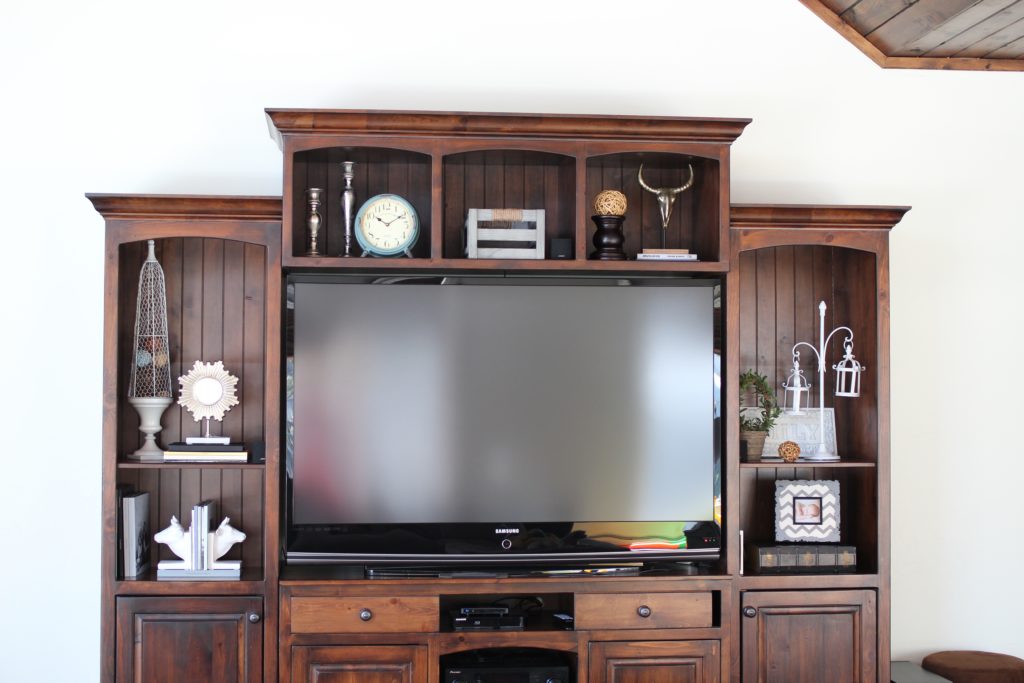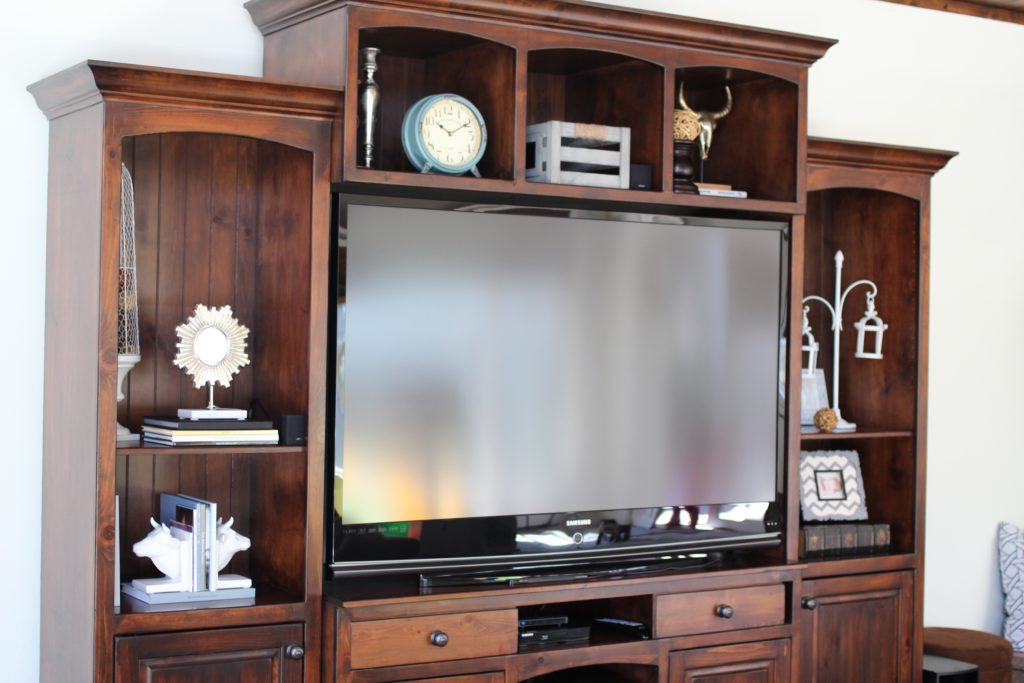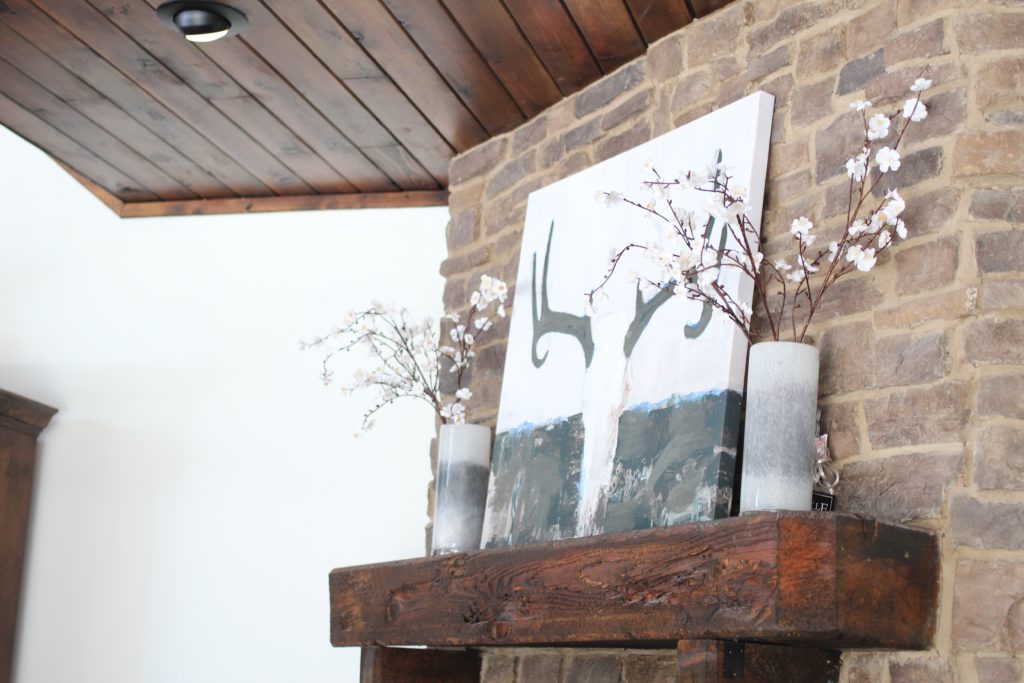 I found this painting at World Market and I was really excited about it because it fits perfect with the rest of my decor.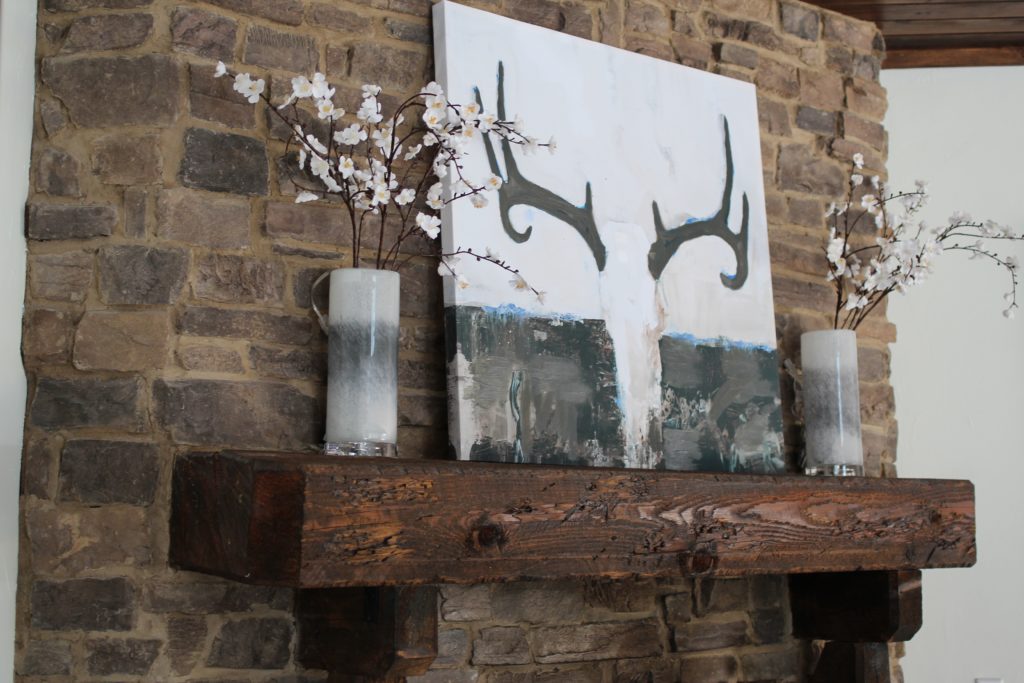 And the couch. Oh the couch. Kind of a sore subject if you ask Sean. We've never spent more than a couple thousand on a couch before and when I went shopping for couches I found this one that I just fell in love with. So I brought Sean to see it at Ashley Furniture and when he saw the price tag he was NOT happy about it. Eventually he gave in because he realized how awesome it was, or because he's all too familiar with the term, "Happy wife happy life". So even though it was WAY more than we planned on spending, it is seriously the BEST!  So comfortable, great size and I loooooove the color.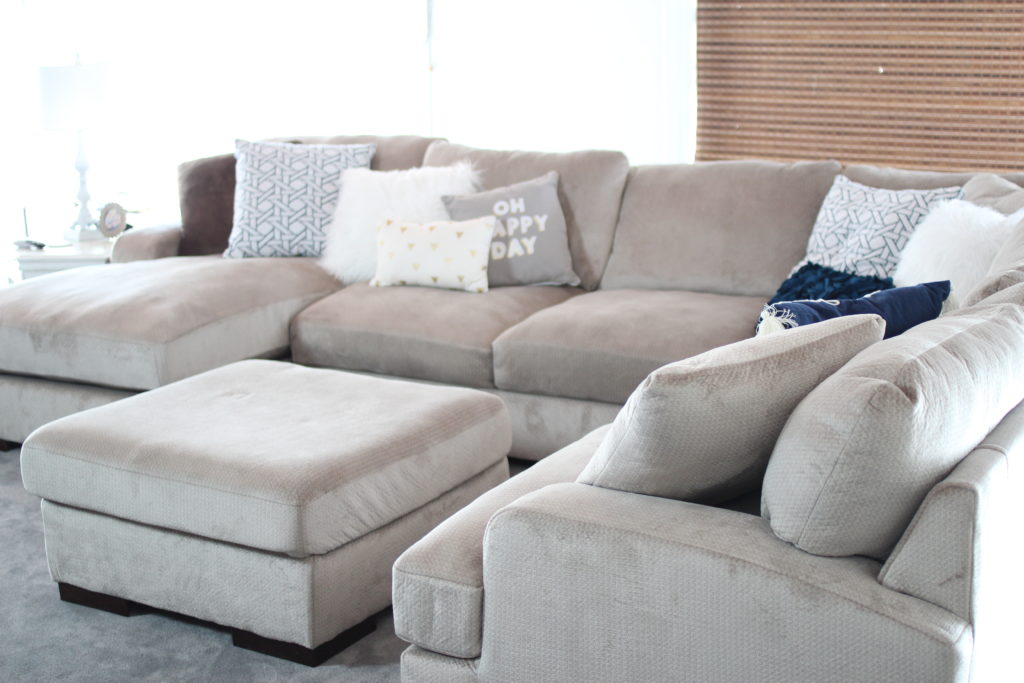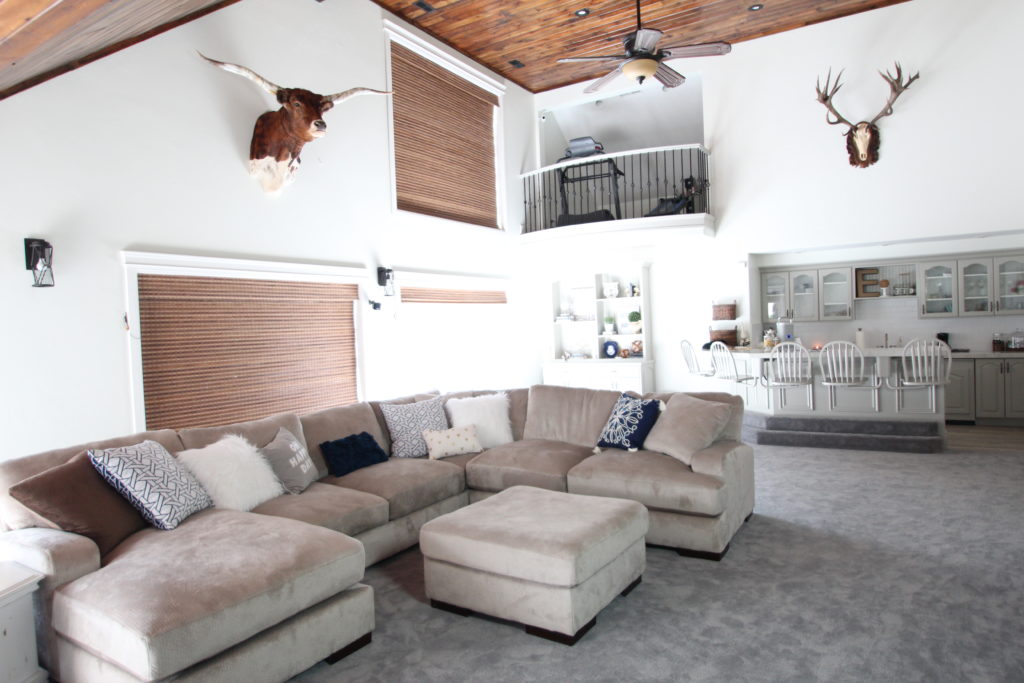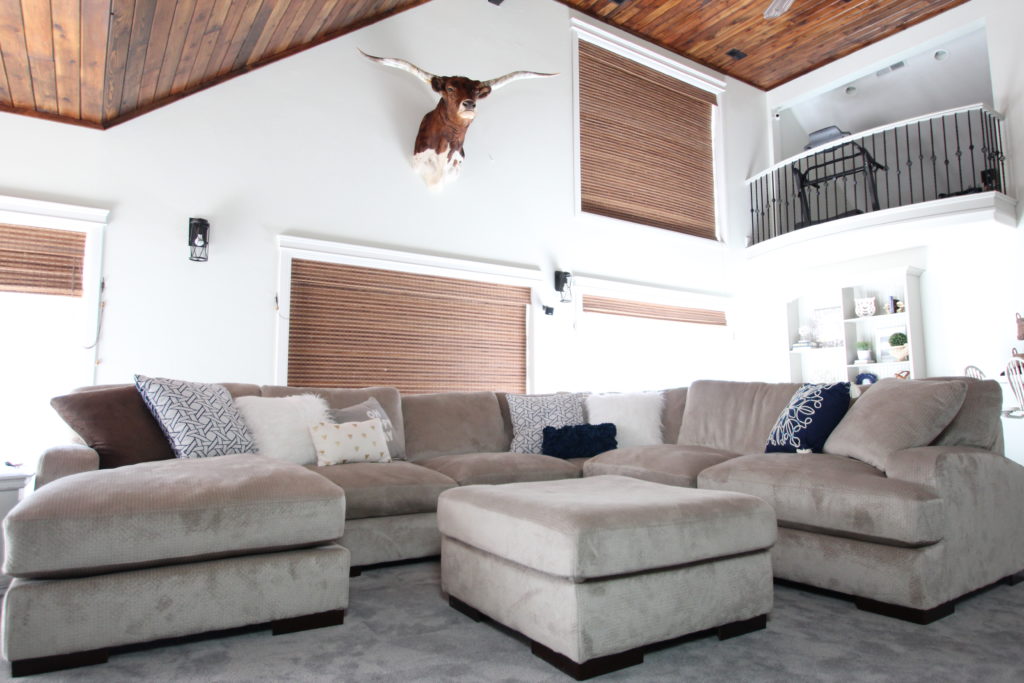 And you know how it goes, once you start in one room it's hard not to just say to yourself, well, we might as well paint the rest of the house, and we might as well change out the lighting and  paint the cabinets in the kitchen while we're at it. Soooooo we did…
Here is the BEFORE PIC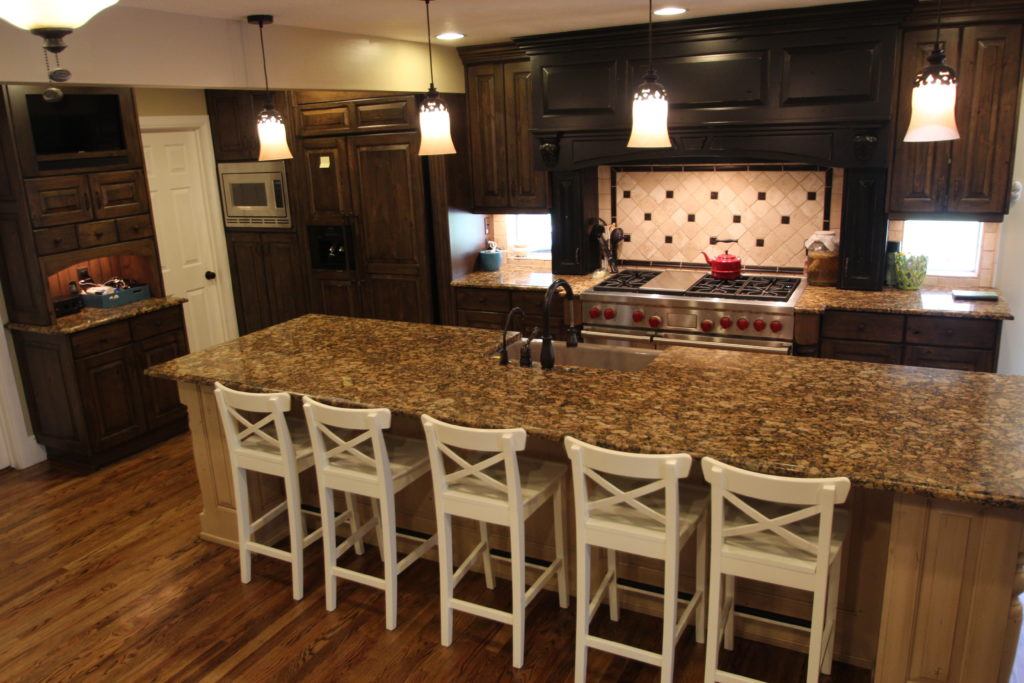 Painted all the walls the Simple White color, as well as the oven hood and island.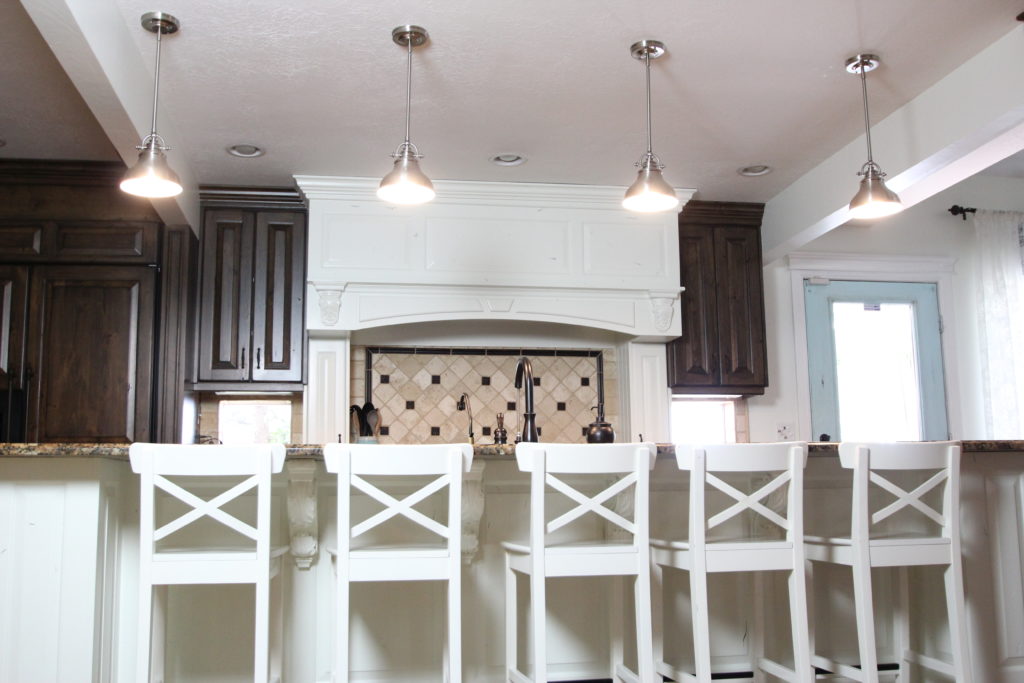 Then of course we had to paint the dining table and chairs too. Got new pendant lights and a orb chandelier from Lighting Design.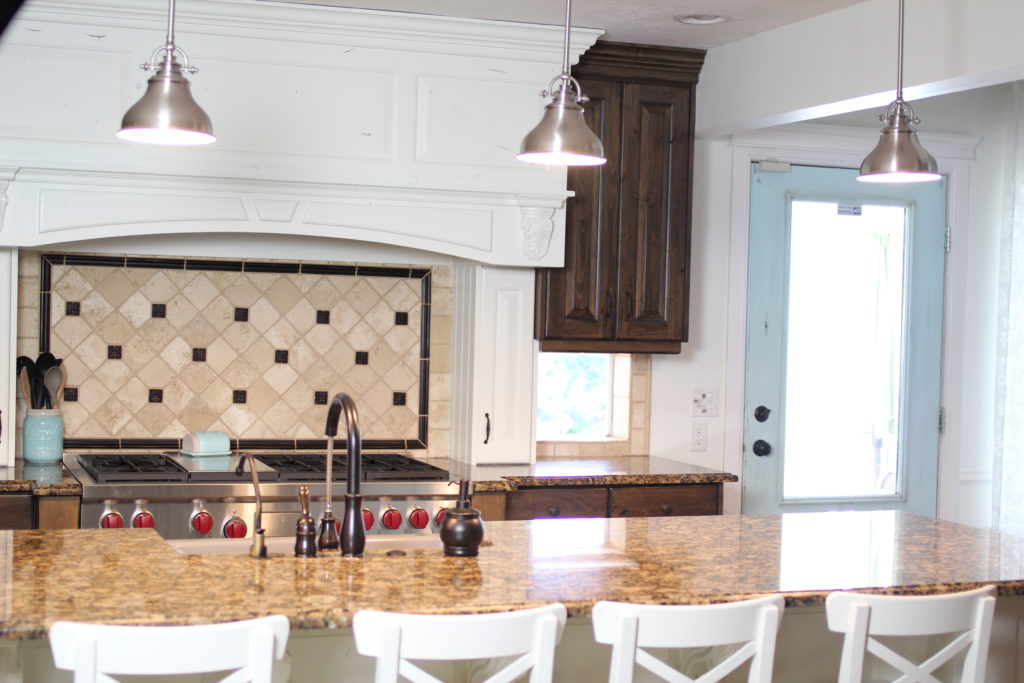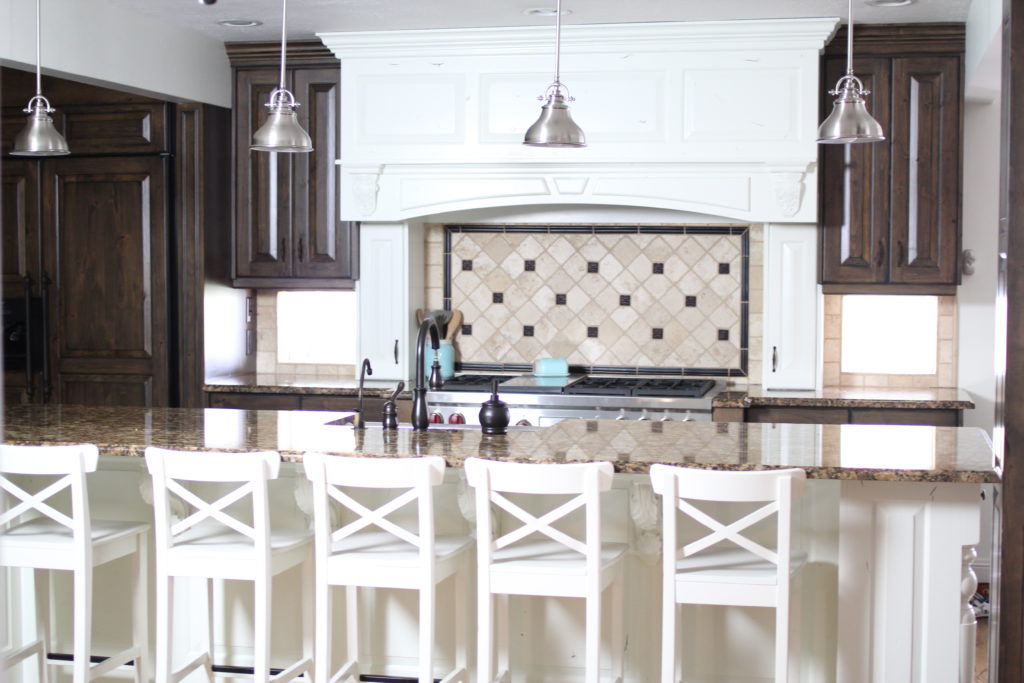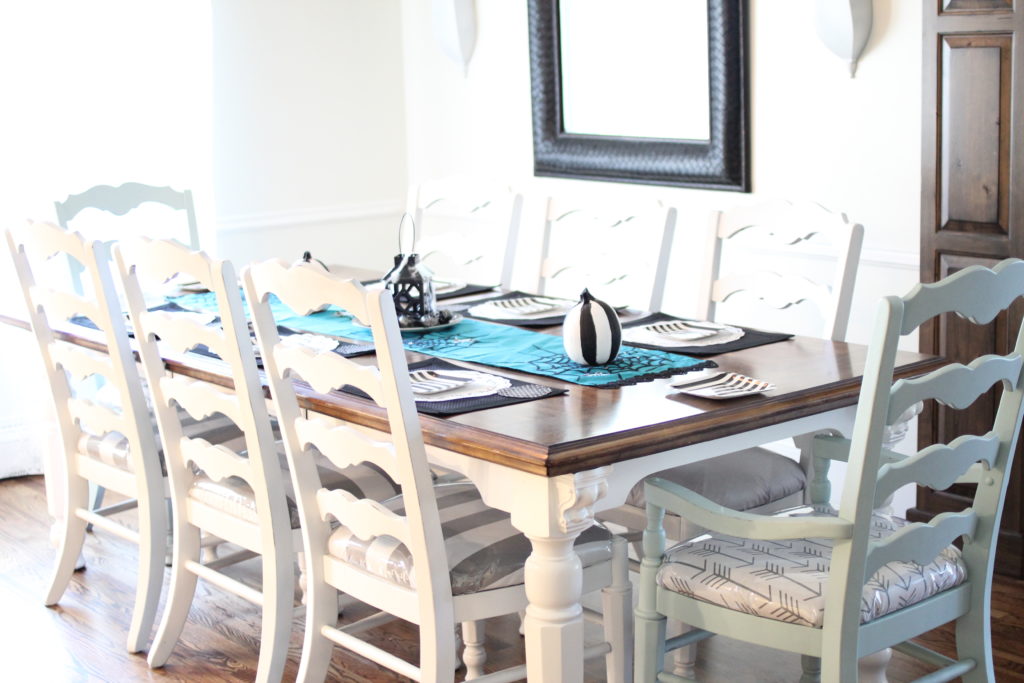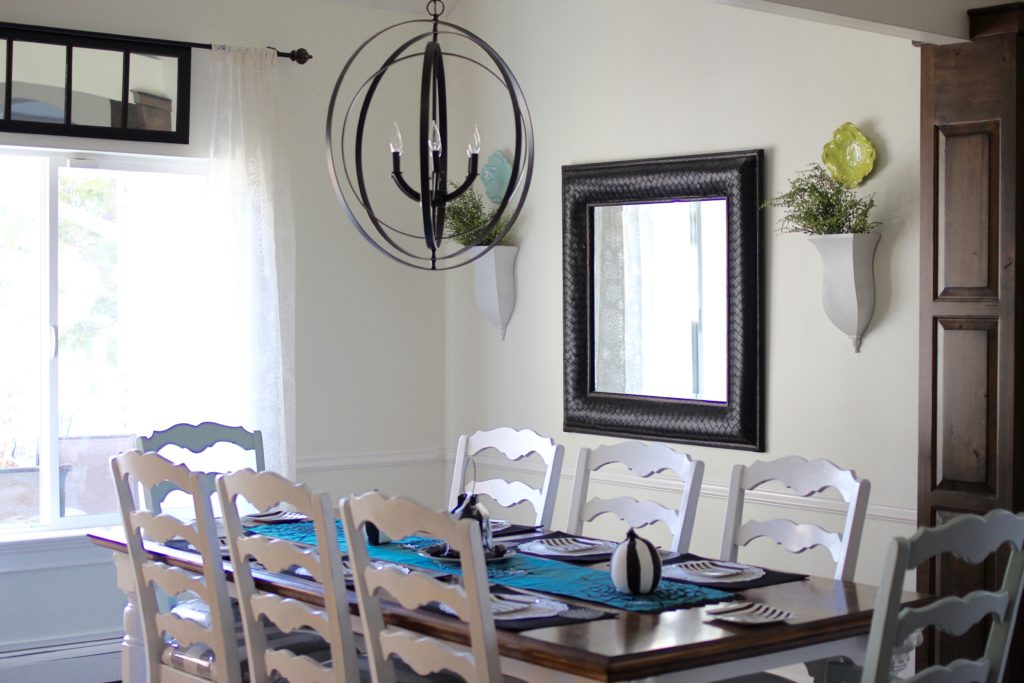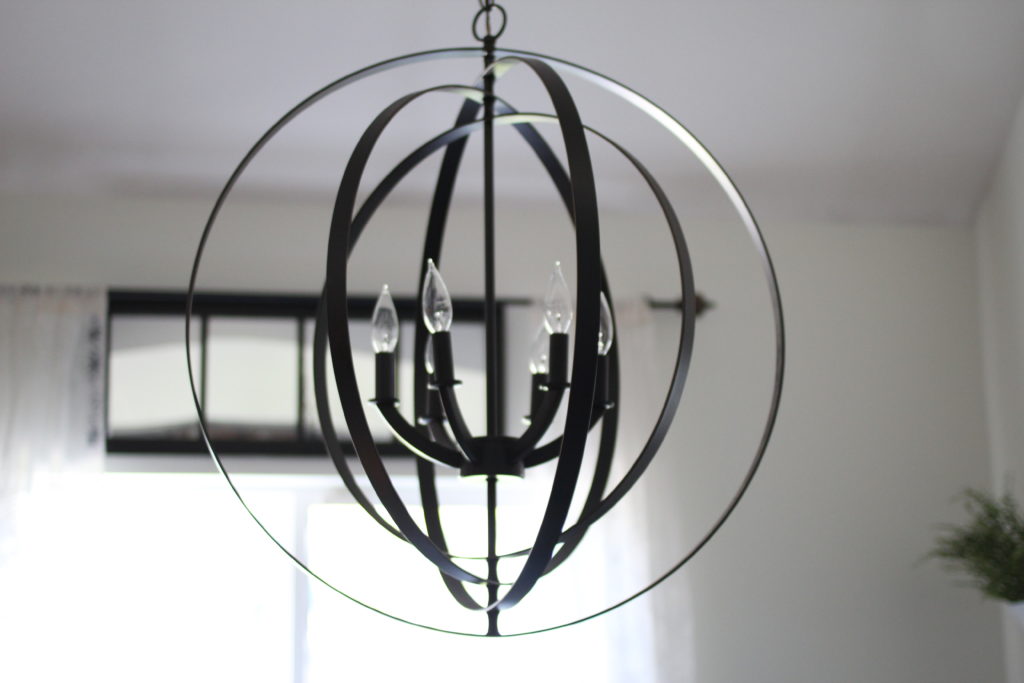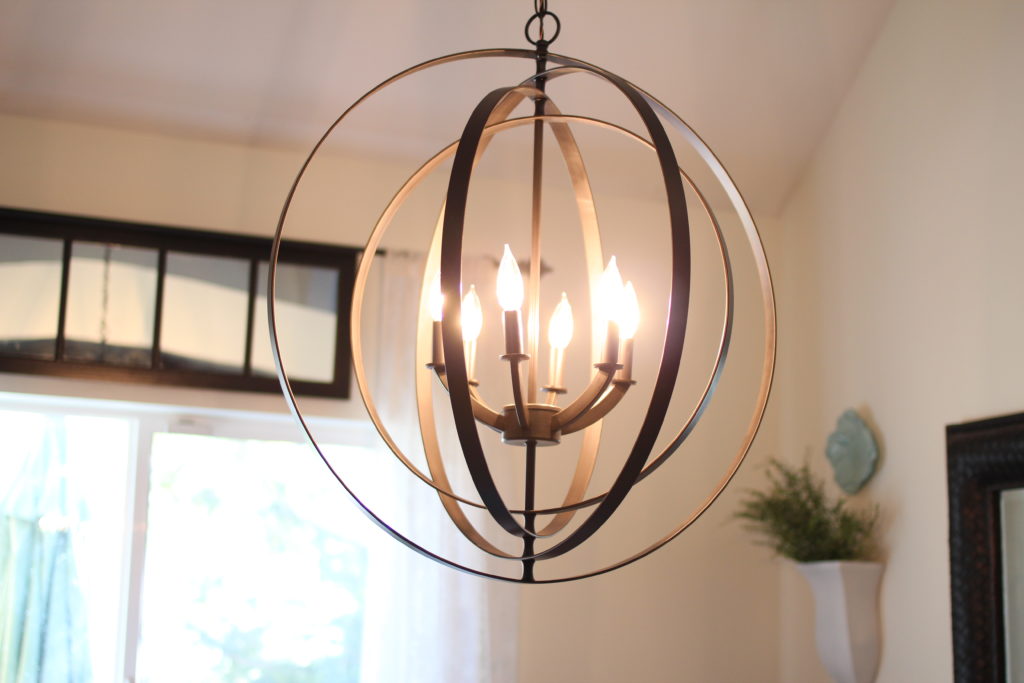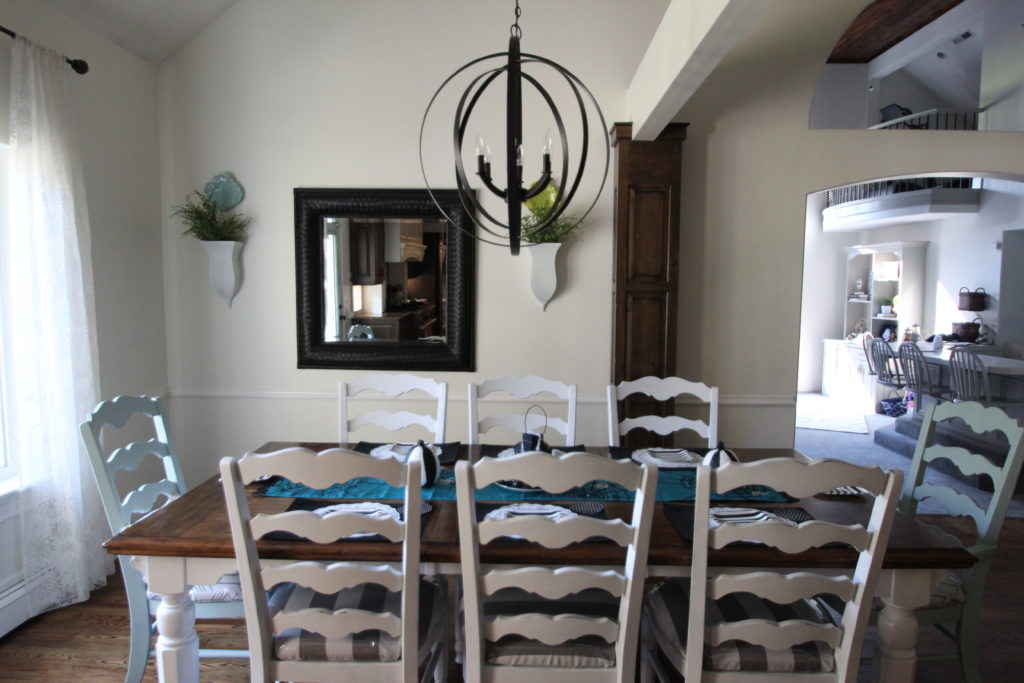 I love my new pendant lights from Lighting Design.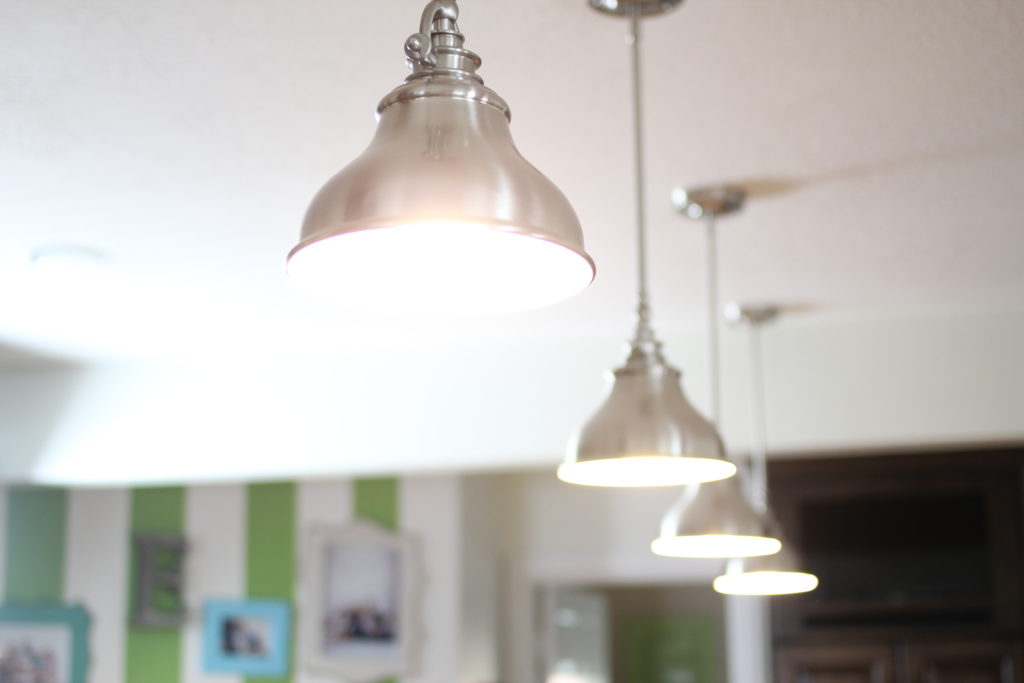 Interior Design: Peggy and Ali (801)556-4788 or (801)864-4010 for help in choosing paint color, tile, carpet, and decor.
Carpet and Tile: Tony Workman WorkmanFlooring.com located in Murray, Utah (801)755-5931
Couch from Ashley Furniture: If in Southern Utah ask for Phil Kiser (435)619-3769 and if you're in Salt Lake you should call my uncle Peter Escobar at the Salt Lake location (801)443-4663 these guys will hook you up if you tell them I sent you.
Rug: RugsUSA.com
Countertop: Heather at Bedrock Quartz (801)380-8716
Framer/Handy Man/Tile guy: Rigo (385)249-7600
Lighting: Lighting Design