We've done a lot of different St Patricks day activities for kids over the years so I decided to combine them all in one post and share the different ideas for you to pick and choose from. Since having Owen, my fourth child, I haven't been as ambitious as I once was when it comes to holidays. First of all, he's a pretty high maintenance kid, and secondly, 4 kids is kind of a lot in my opinion. So I think I'll choose one thing this year and call it good.
Delicious Irish Dinner with festive treats
It was fun to first create a St. Patricks Day Pinterest board to fuel the creativity. Then we went to the nearest dollar store to find all the cute seasonal stuff they had available. I'll create a shopping list for you right here. Just take a screen shot and you're ready to go!
What you'll need:
Check out this recipe and list of ingredients you'll need for the Corned Beef Stew
Fruit plate: Strawberries, raspberries, cuties, pineapple, green grapes or cucumbers, blueberries, purple grapes,
Pistachio Jell-O instant pudding mix
1 20 oz can crushed pineapple
miniature marshmallows
Pistacio nuts
Cool Whip
Large Marshmallows
White Candy melts
green food coloring
cookies
black gel frosting
Spinach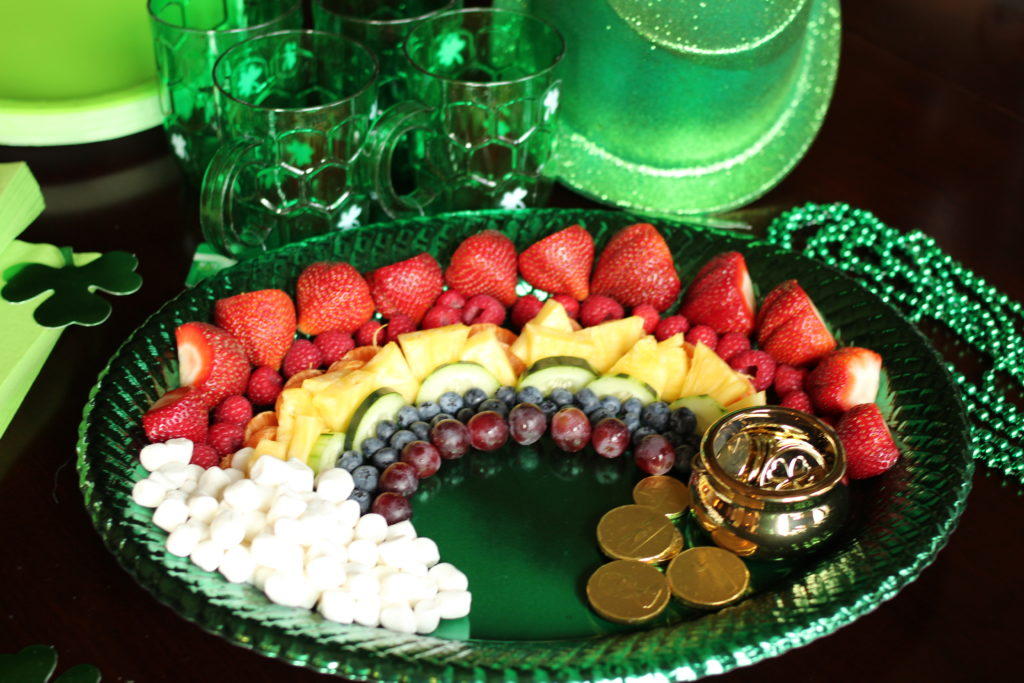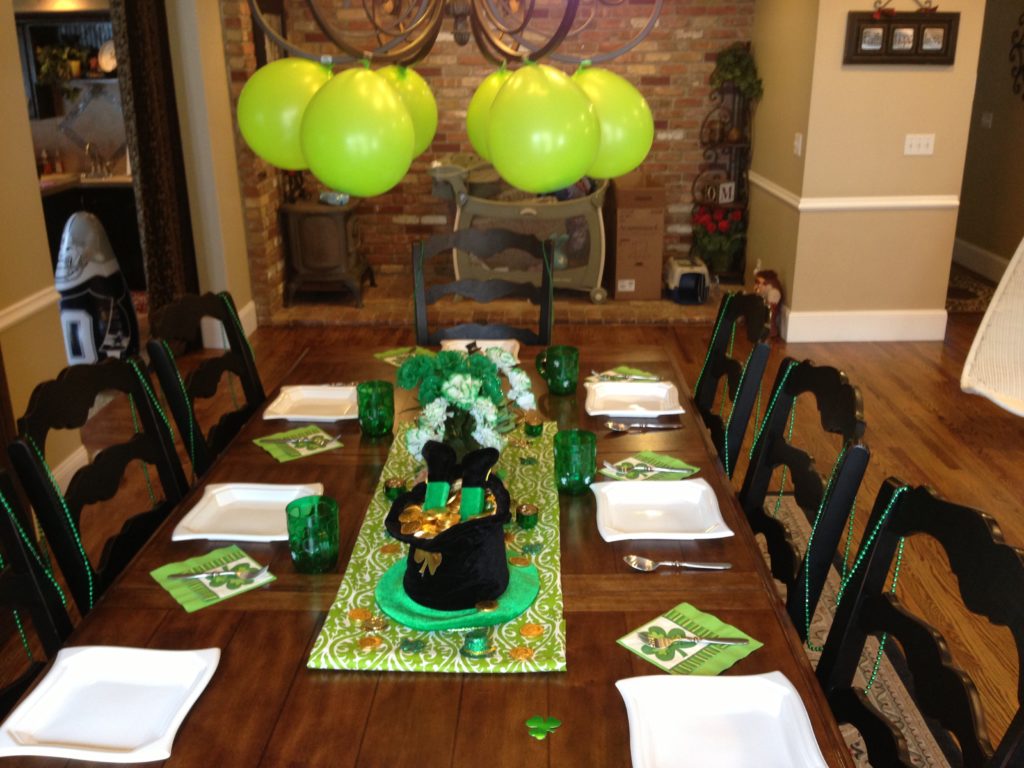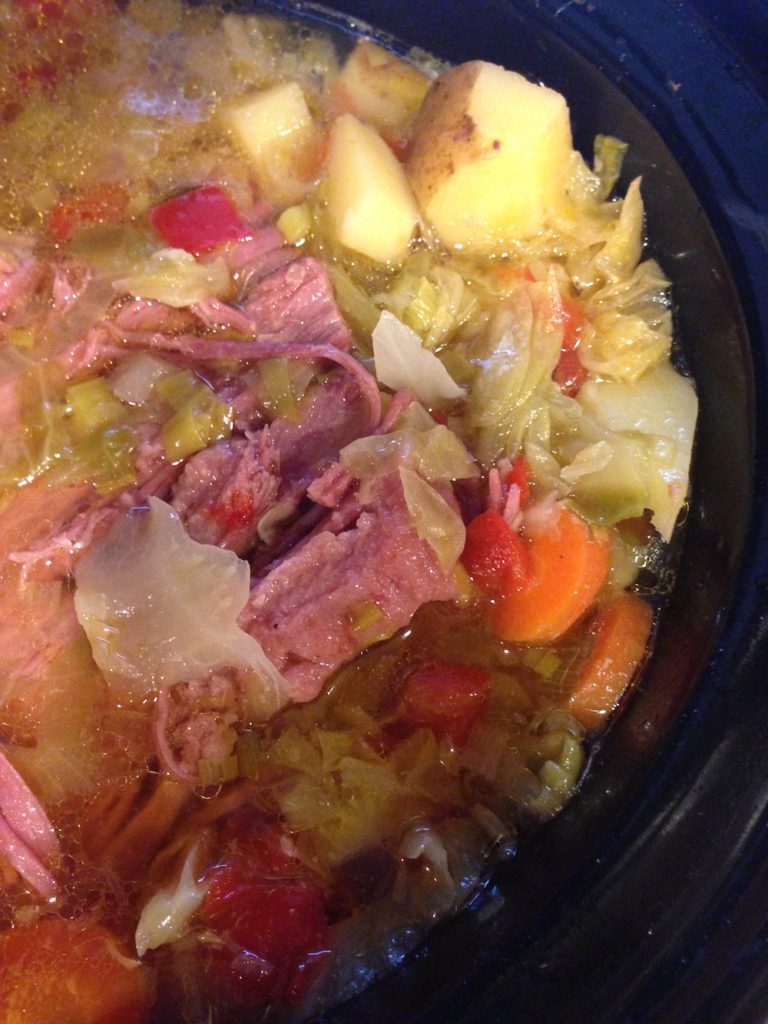 Making pistachio jello is pretty simple. I don't even measure really. Just follow the instructions on the pudding box, add the drained can of pineapple, a handful of marshmallows, a couple scoops of cool whip and sprinkle in some pistachio nuts. It's pretty simple, definitely NOT healthy, but oh so yummy!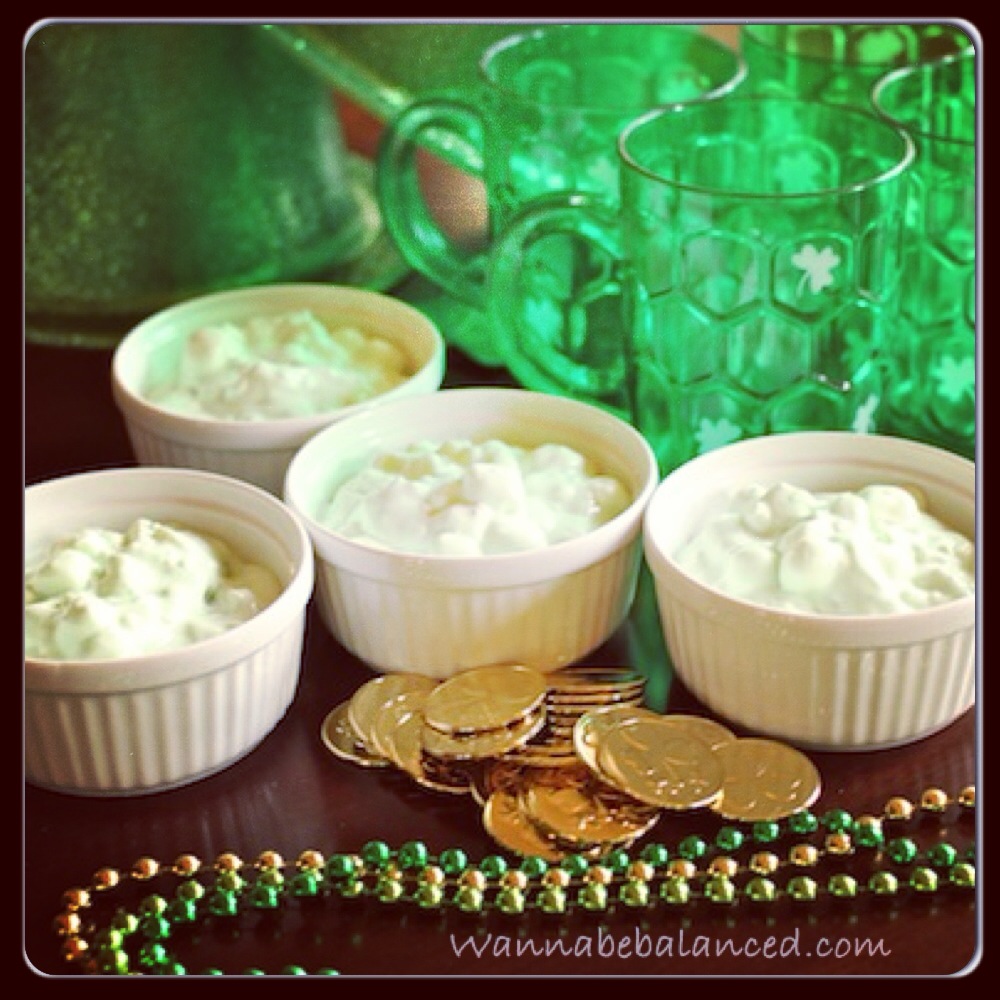 The leprechaun hats are pretty self explanatory but if you need instructions then you can find the actual pin in my St. Patricks Day Pinterest board. First spray the pan with oil or use wax paper to prevent sticking. Follow the melting instructions on the Candy Melts bag, add some green food coloring. Dip the cookie in the melted green chocolate, dip the marshmallow in the green chocolate, stick the two together and you're practically done.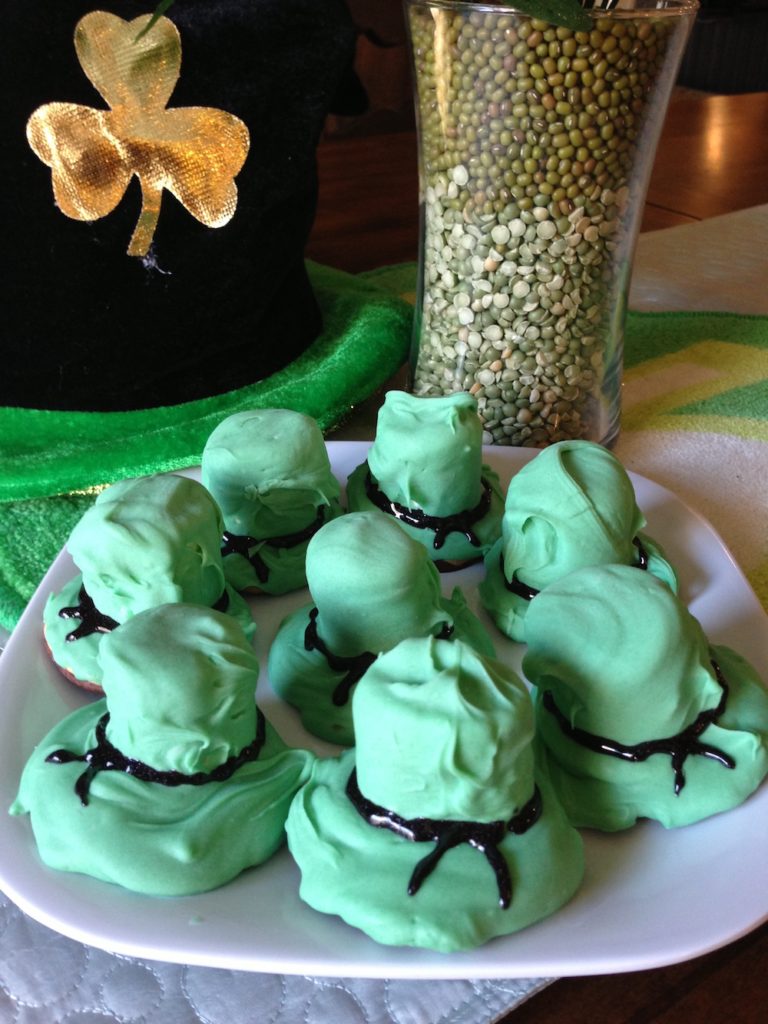 And here I just made your typical green smoothie. Banana, spinach and any other fruit of choice.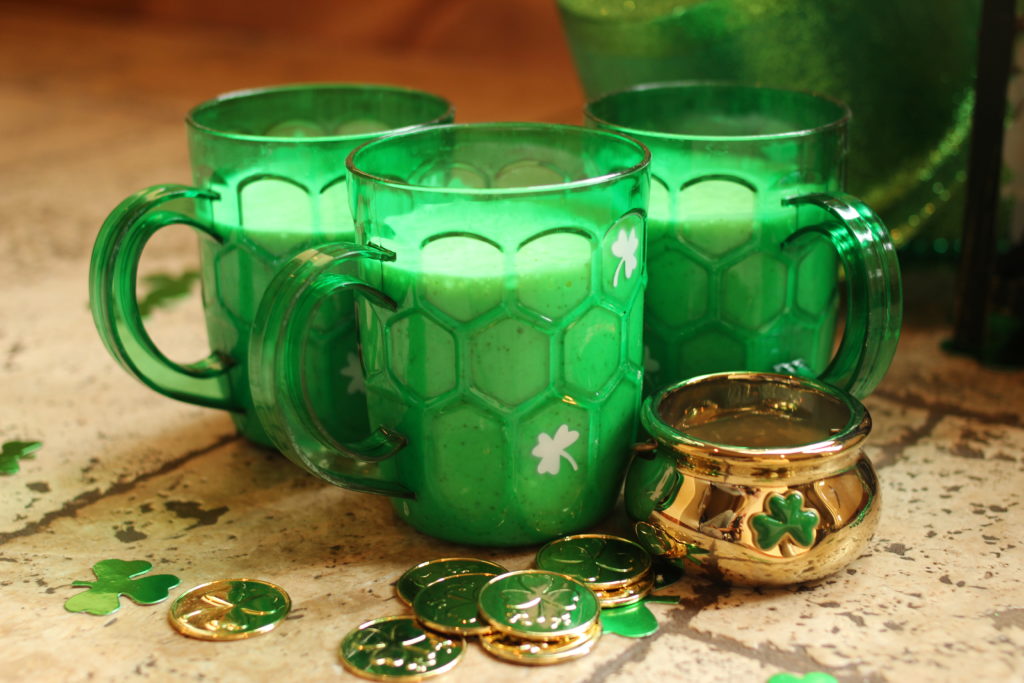 Color your pet!
This is one of our favorite things to do this time of year. We color Dresden green for St. Patty's day and pink for Easter. The kids go crazy over it. All we do is first give her a bath, then put on some rubber gloves and pour green food coloring all over her. Massage it in really good, then rinse with water. This will last for about a week.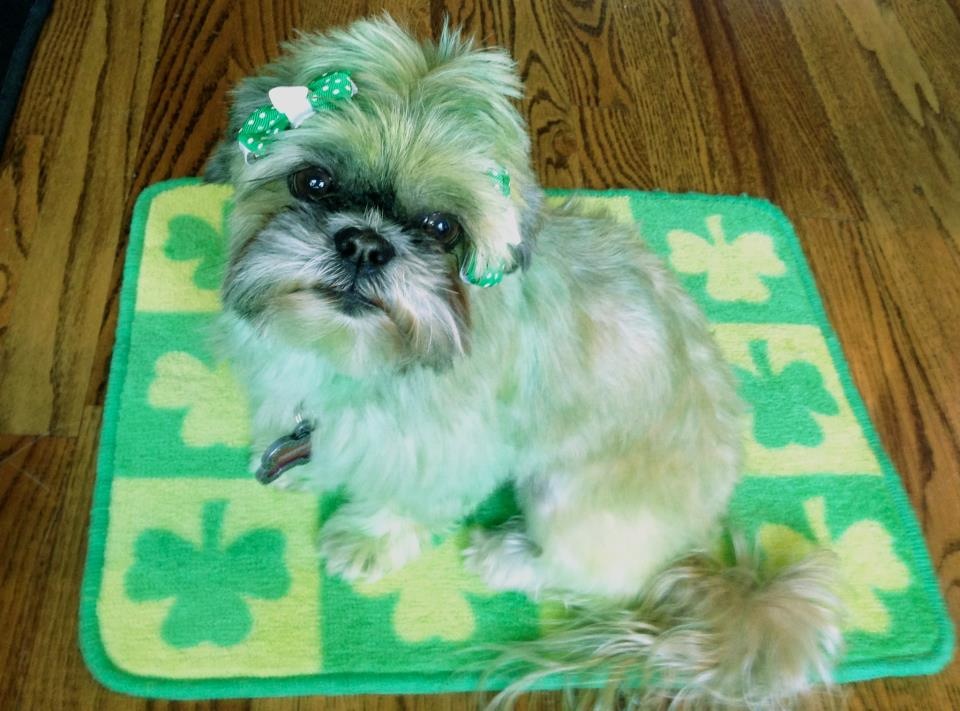 Sensory Play
This is so much fun for the kids… for the moms, not so much. Can be pretty messy but it's all worth it right.
What you'll need:
Dollar store St. Patricks day items, what ever you can find will work just fine.
Scoopers
White rice
Vinegar
Food coloring
Measure 1 Cup of Rice into a container.
Add 1 Teaspoon of Vinegar.
Add as much food coloring as desired (deeper color= more food coloring)
Cover and SHAKE container real good.
Check to see if it's coated well.
Allow time to dry. Takes a few hours, stir it up every once in a while to help it dry faster.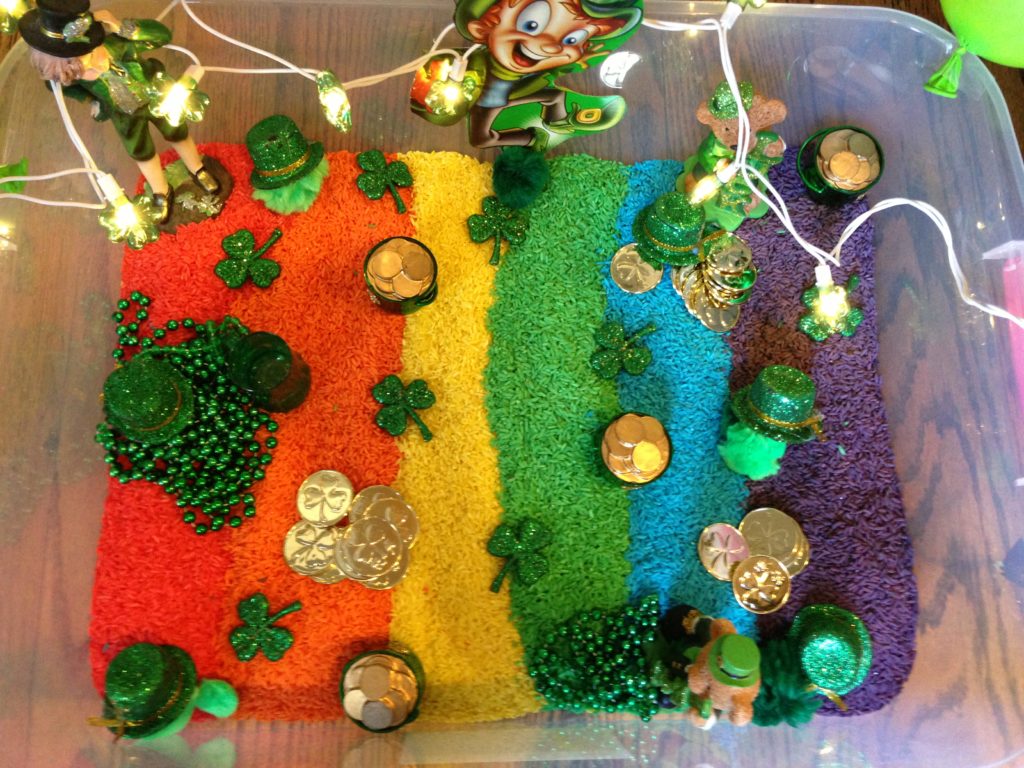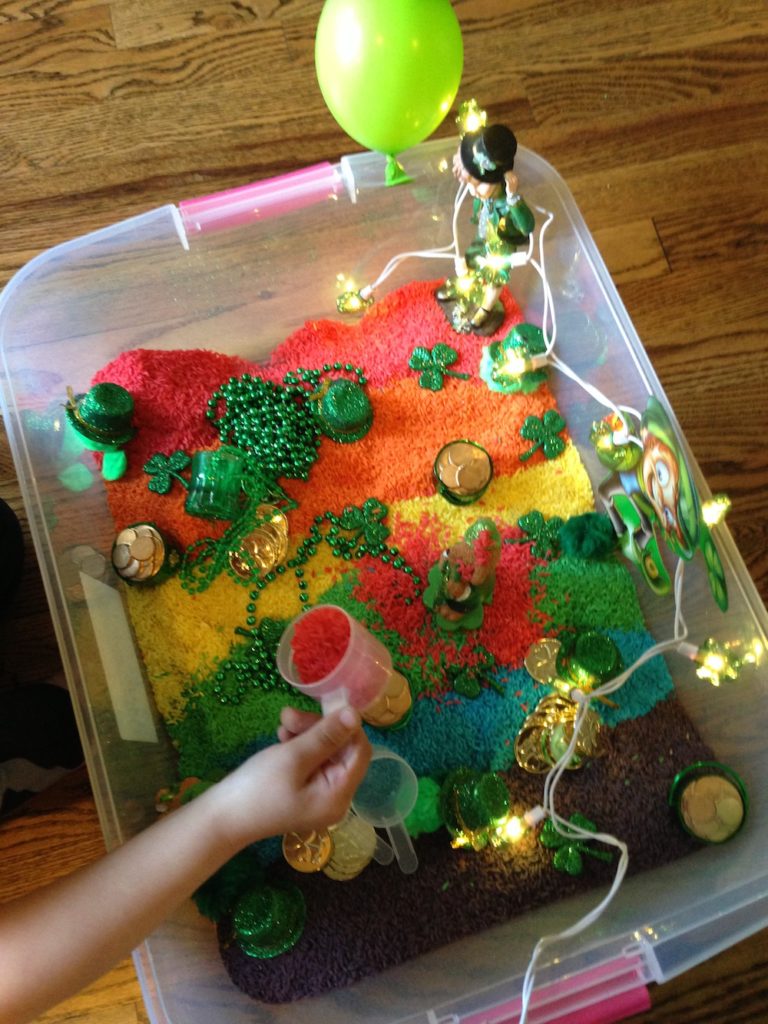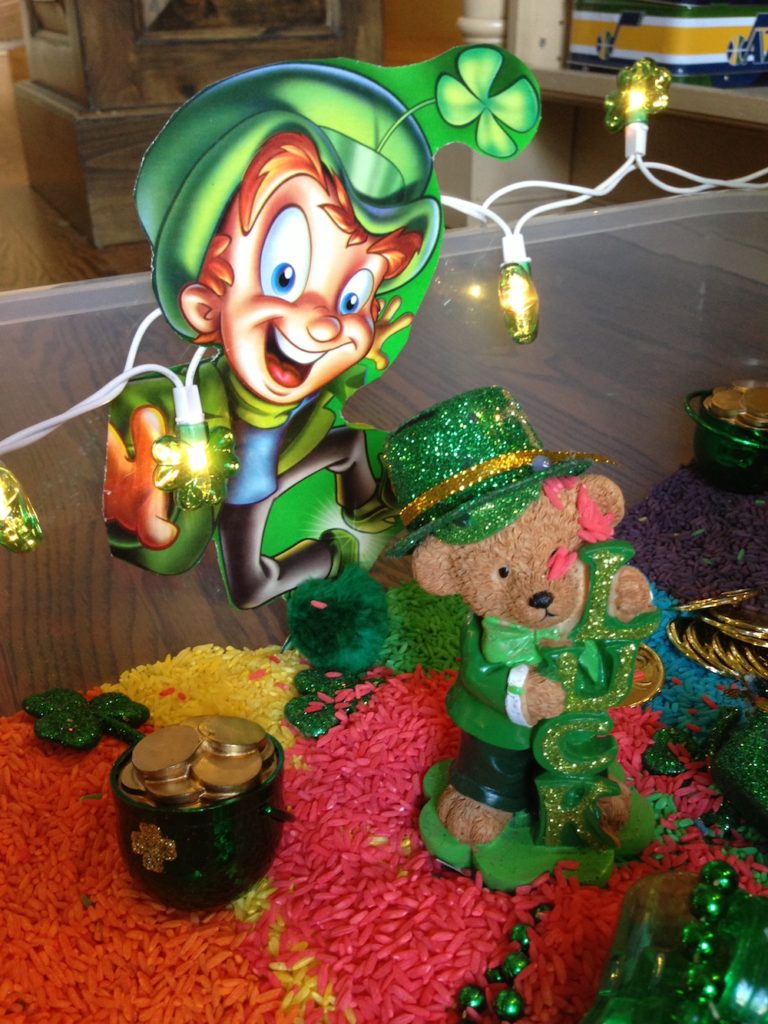 Festive St Patrick Day Breakfast
You will never find sugar cereal at our house, but we do however make exceptions for holidays. Lucky Charms are the perfect breakfast for St. Patricks day. I've even used green food coloring for the milk but my kids refuse to drink it, haha. Guess green milk is not very appealing.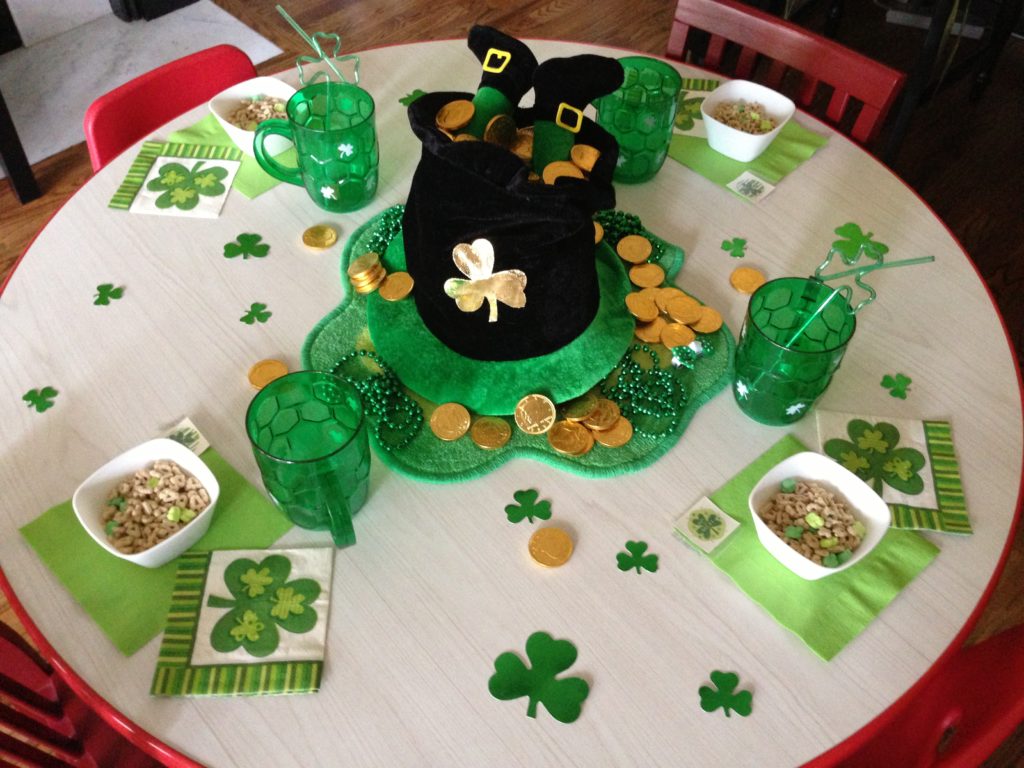 Green Bath
I basically just collected all the green toys I could find and threw in the dollar store items I got. Gave them some paint brushes and mixed up some shaving cream and food coloring for them to go to town with.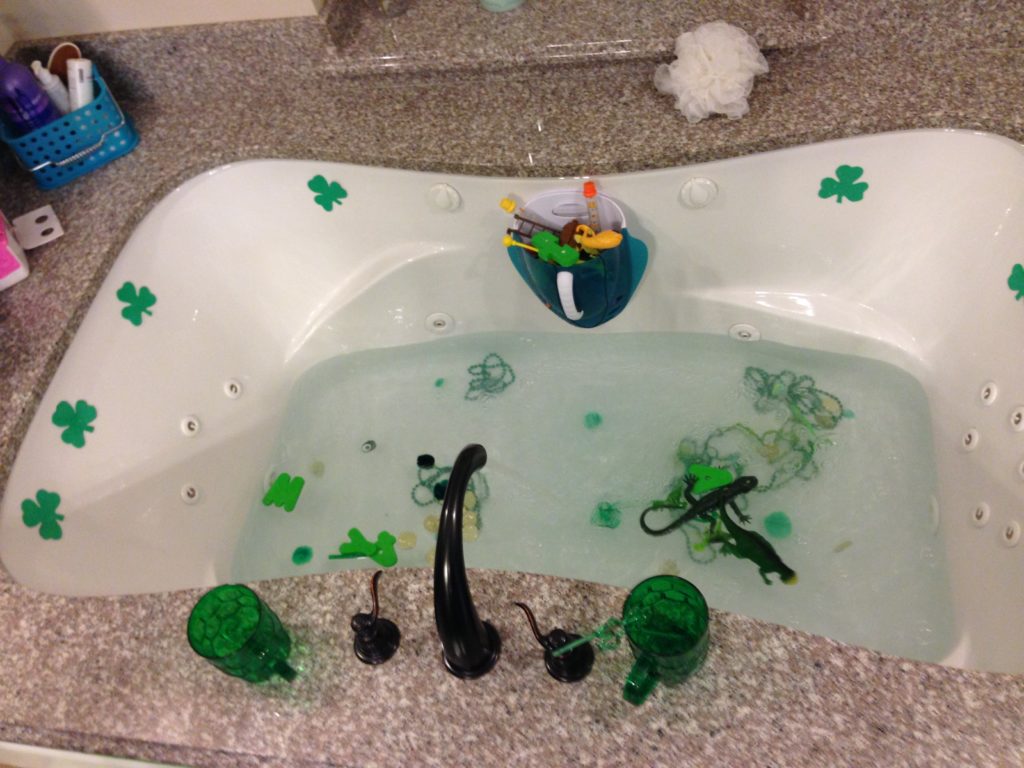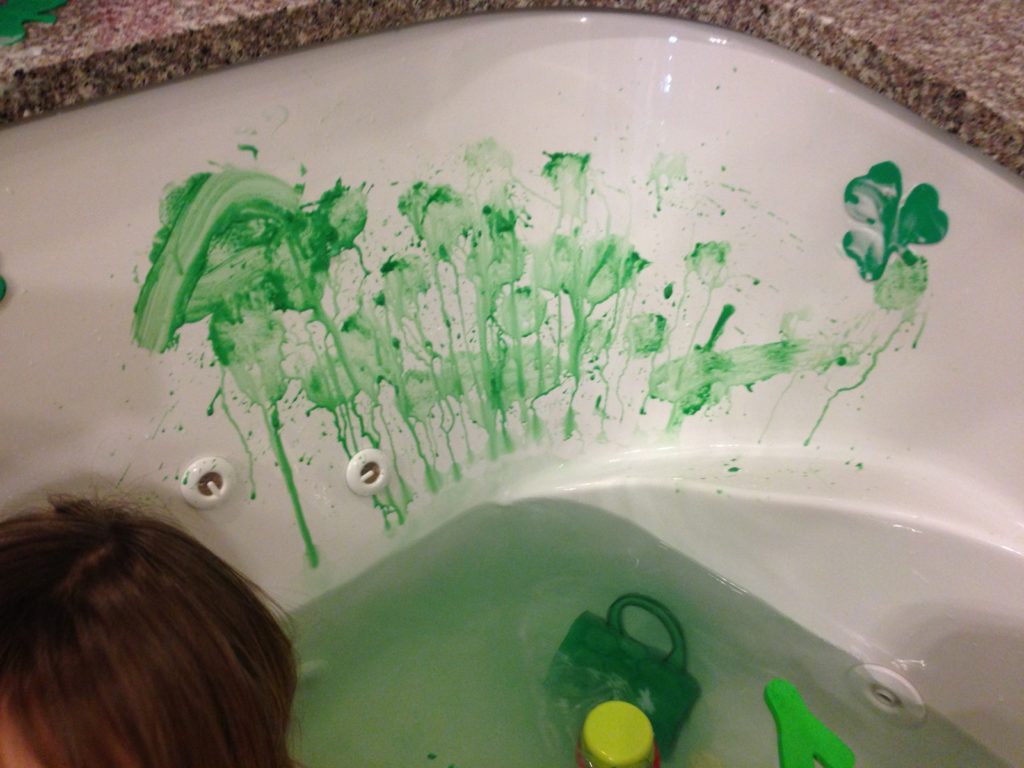 Shamrock Maths
This was a super simple St Patrick Day activity to make myself. I found the foam shamrocks at the dollar store and I painted these large popsicle sticks but I'm pretty sure you can find them already colored on Amazon. Then I just wrote down math problems on each popsicle stick and had the gold coins, again from the dollar store, to use for counting.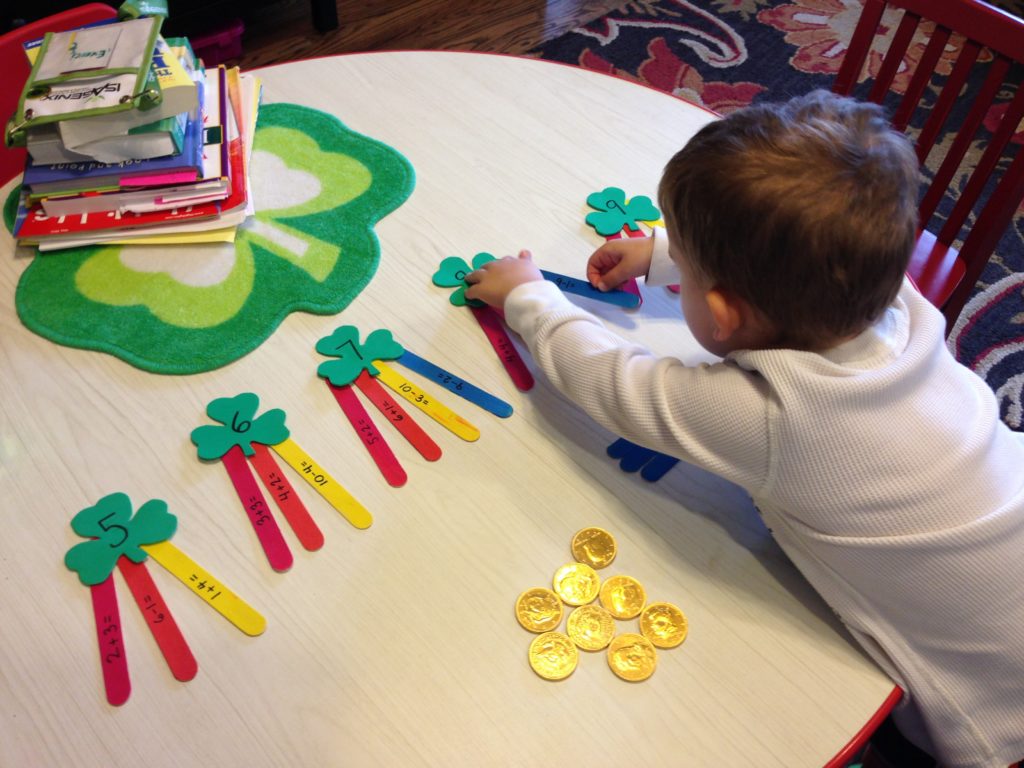 Then of course he needed some Lucky Charms to snack on cause it for sure helps him think better, and eating only the marshmallows is all part of it, right?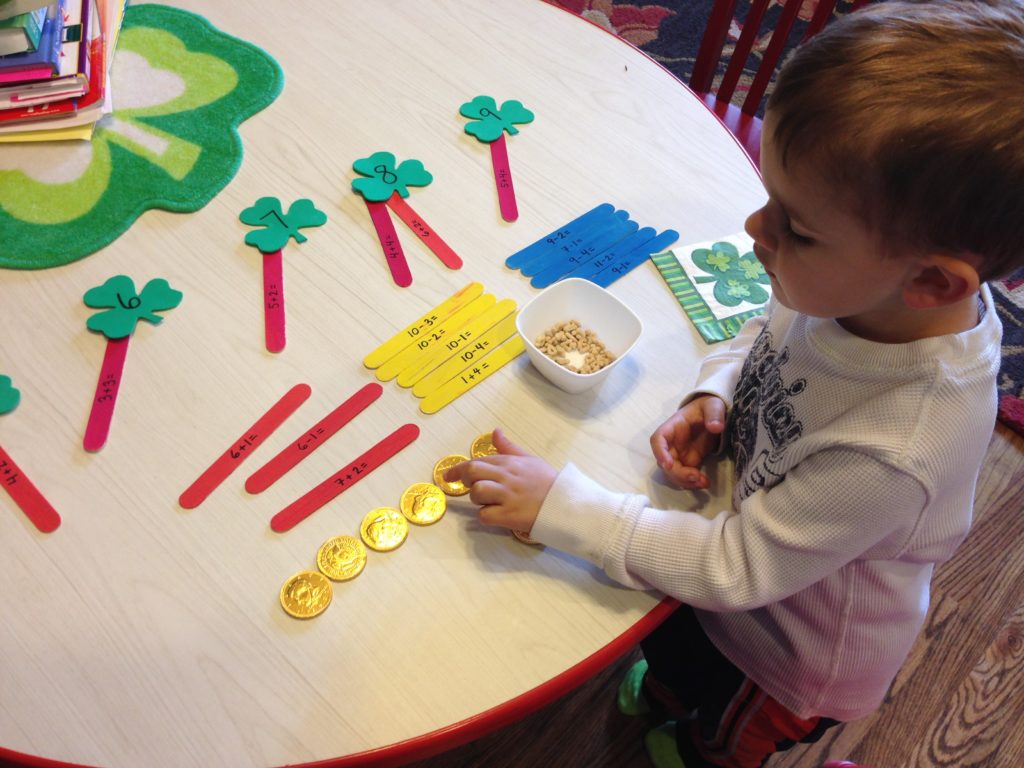 Make a Leprechaun Trap
This one is fun to do because they come up with something new every year. I love to see them getting creative and really trying to catch that little guy.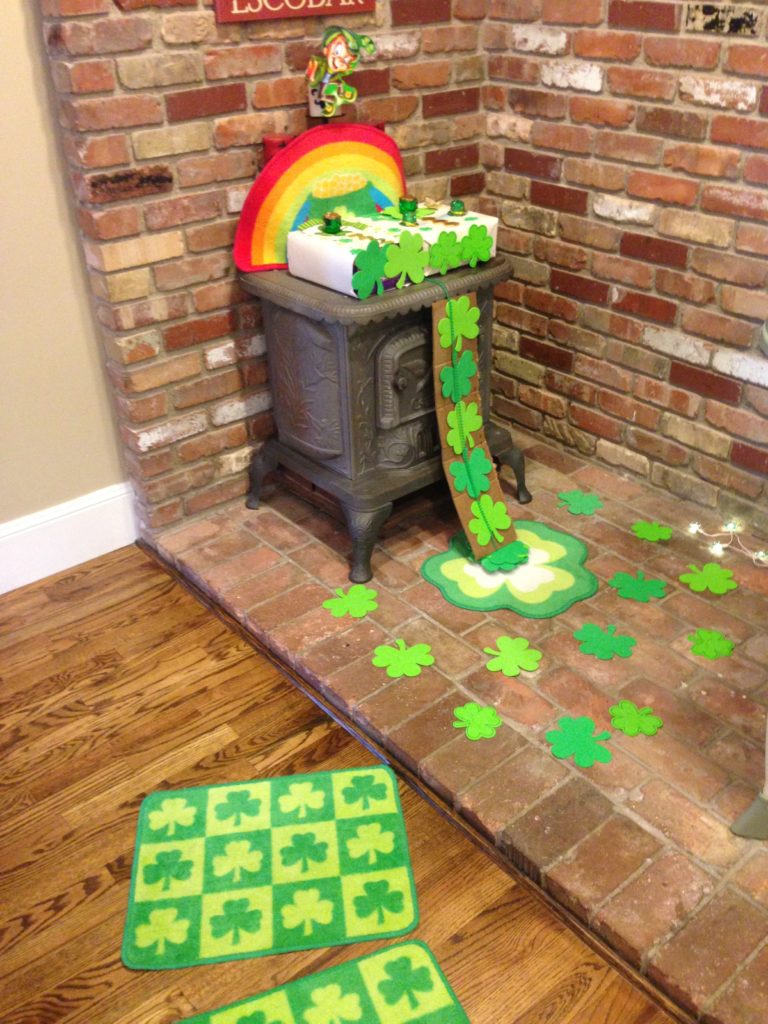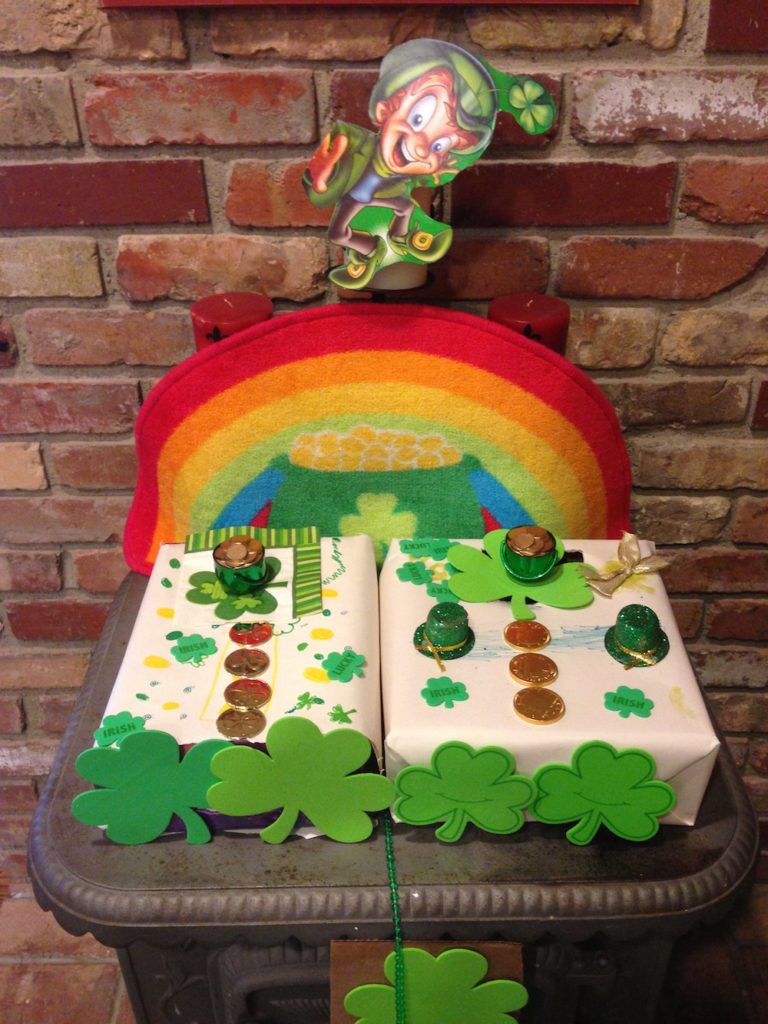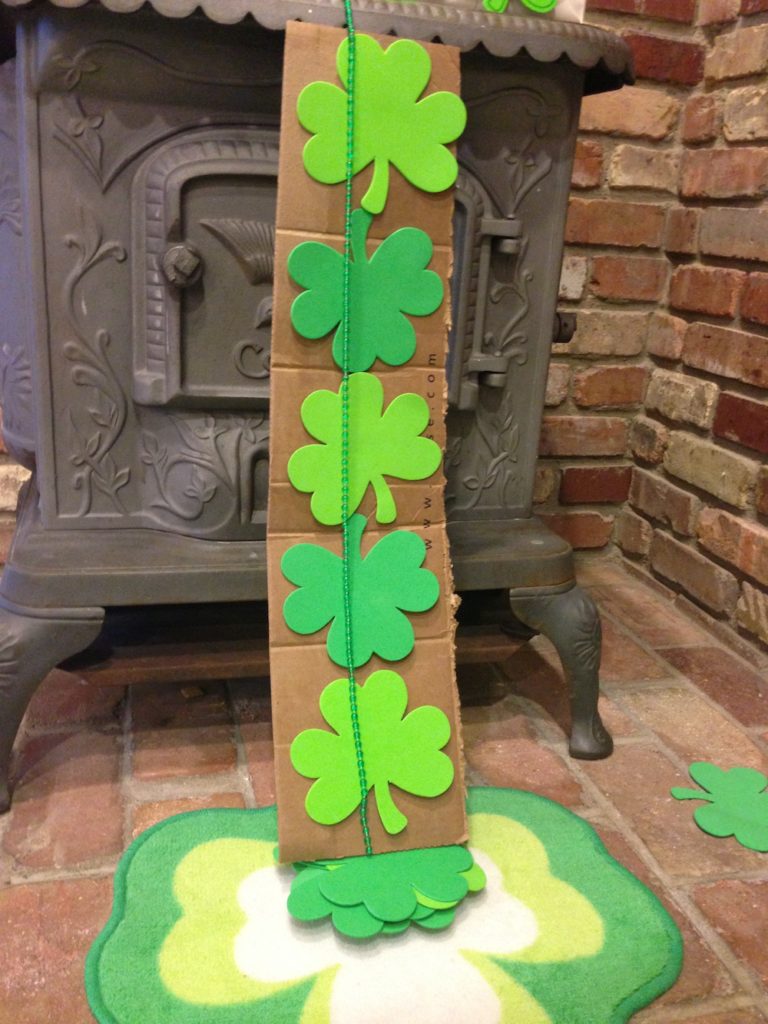 Lenny the Leprechaun has to pee too ya know.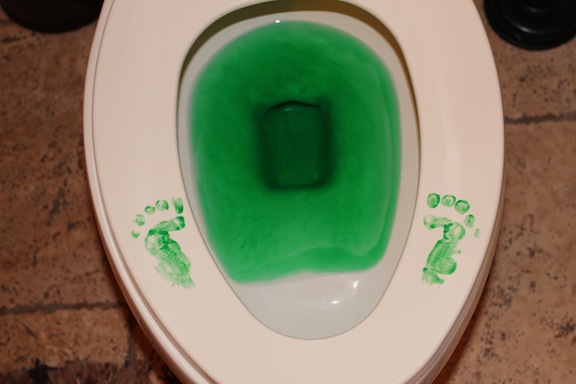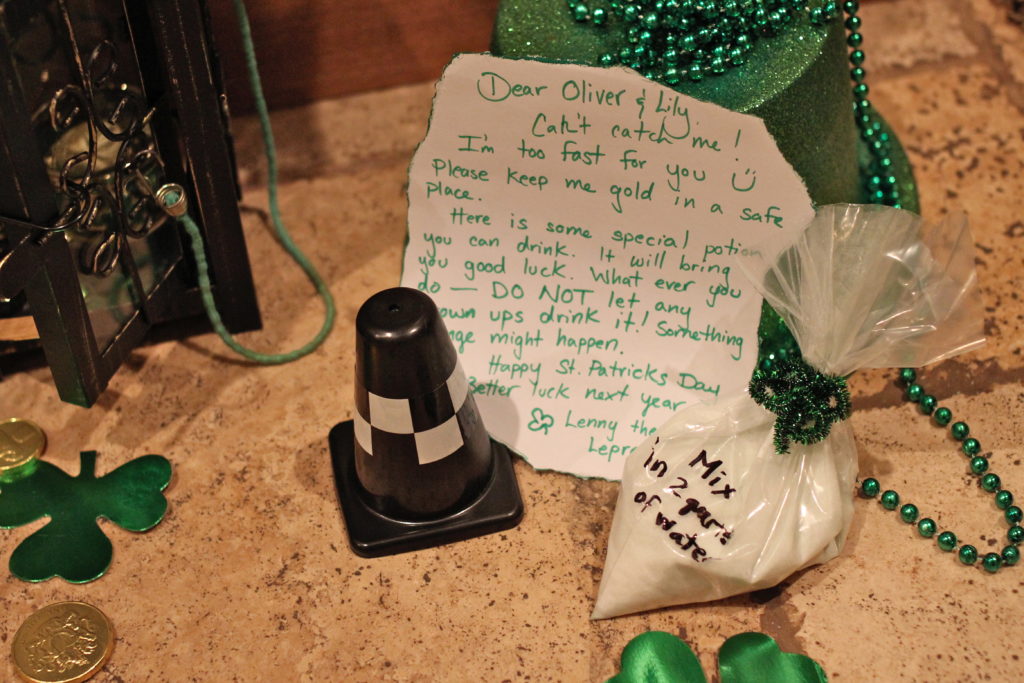 Watch the video to see what happens to grown ups if they drink the potion!!!!