Yesterday Sean and I celebrated 13 years of marriage. As a tribute, Sean shared something really powerful on Facebook and I HAD to publish it. His message is so profound and I'm sure very relatable to a lot of married couples. He talks about the Midlife Crisis and how to avoid it. Also be sure to check out our
YouTube video
.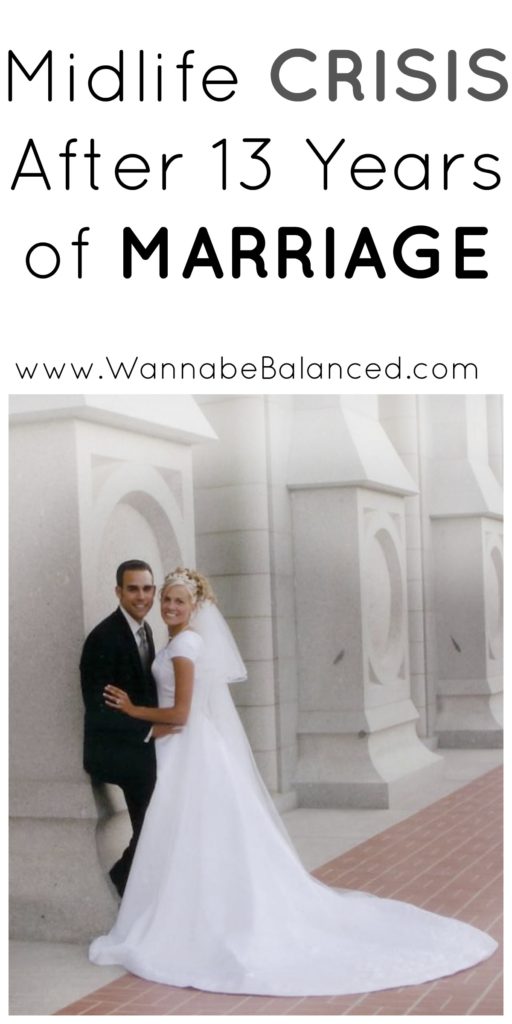 "13 years ago I married the girl of my dreams, the most beautiful, wonderful girl in the world.  I do feel like I am the luckiest guy to walk the earth.
I remember us back at this time and I remember how crazy head over heals in love we were.  We were never really ever apart.  From the moment we met, we spent every free minute together.  If we were apart we would talk on the phone for hours.  I remember on our 3rd date Crystal saying, "I like you a lot."   My reply came quickly, "I love you."   She then seemed to wonder out loud as she questioned, "do you think that is possible?"
It's an amazing thing when you just know.  I knew the moment I saw her.  I wish I could put myself in Crystal's shoes back then and see how it felt from the other side.  I was so certain, so soon.  We began dating in April, were engaged on June 20th, and married July 31st.  It all could not happen soon enough and nothing ever felt forced or rushed.   It felt natural.  It was exhilarating.  Being head over heels in love is the ultimate high!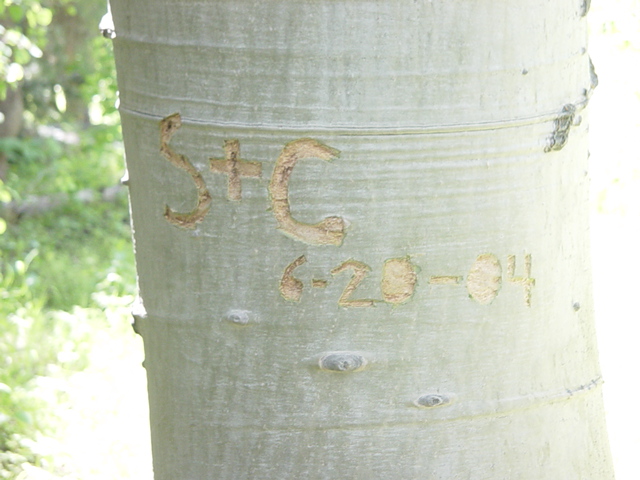 I do feel impressed to make it clear though that we have had our struggles.  Some of them even seemed insurmountable at certain times.  I want to share this because I have friends who are struggling in their marriages right now.  I understand now that in order to have a successful marriage, we must not only understand the other person, we must understand ourselves.  We must understand our behaviors and our programming from years past.  An example of this would be me growing up. I never displayed much sensitivity, I thought that was weakness, I didn't ever really share how I felt or why I was feeling that way.  Doesn't come natural to me at all.  I can keep things in and really harbor things for years.  That doesn't work in marriage and it is the complete opposite behavior of my spouse.    So marriage becomes the ultimate growth opportunity.  Want to stay married, want to be happily married, then we must keep growing, but not only that, we must keep sacrificing and giving.  We must be submissive and we must be humble.  Some men think that going to work everyday and providing a living is sacrifice and unselfish enough.  They justify their excessive hobbies and personal time by saying, "I work all week, all year just for them and so I must take care of me."  I believe this form of justification and self serving attitude is a recipe for a bad marriage.   To work and generate a livelihood for my family is not a sacrifice. I have never viewed that as an additional burden. I view it as a given, my duty.   You know, how some incredible people feel about serving our country.  That is amazing!  Just as Crystal views the rearing of our children as a given, it is not additional work dumped upon us. It is our life!  It is why we are here!    Sure we get burned out doing it, but there is no alternative. It would be like saying that breathing is too hard of work.   Well breathing is work, but just go ahead and try to stop breathing and see what happens.  I must breath and likewise I must provide and protect.  There is no alternative.
I help my wife where I can, why?  Because I came to the realization that a man who doesn't do house hold chores is a man who thinks he is entitled.  Just because I am the primary dollar earner doesn't mean I get to go and play all the time and my wife gets to do more caregiving.  My wife could certainly provide the income if she had to, but she does have special gifts and talents around teaching our children for which I am so grateful.  I realize all that my wife does whenever I have the kids for just a couple of hours. That is eye opening!  Good kids do not raise themselves!  My wife is a wonderful mother and there are so many wonderful mothers. Most all of the mothers out there are doing the best they can and they are working their butts off to raise those kids, yes even if they don't have a job or earn money. So as husbands we have to learn to better appreciate and value that in and of itself.
Midlife Crisis is a nasty thing just beginning to hit my generation.  We stop serving our spouses, we stop working at it, stop listening, we don't keep the romance alive, not giving things enough thought and attention and things naturally degrade.  We focus too much on ourselves. What we could be, what we would have been. We blame others for our mediocrity and are always hardest on the ones we love deep down the most.  Satan works this way.
Men addicted to golf, exercise, work, men who never seemed to graduate highschool and still have to hang out with their buds all the time.  Wives are guilty of this pretty bad too.  This is good for both in moderation.  Moderation is the trick.
I learned a long time ago that my wife thrives on "one on one" time with me.   She can't get that on group dates, so we rarely do that.   One on one time, when I am engaged, totally transforms her!  I feel so proud that I am the only one that has this effect on her.   Is this work for me?  Honestly, only sometimes it is.  If I am in a dull, reclusive mood then it is hard.  But my wife makes many concessions for me and our family too.  Crystal is really good at identifying when my mood is off and she will say, "you seem distant or like you are zoned out."   Usually this is enough to help me recognize that in myself and I am able to shake off the funk and be more present and engaging.    This is a growth process that has taken us years!!!!  She used to just lose her cool and yell, "you don't like to hear what I have to say, you are not interested in talking to me, you are not a good listener!"   Of course my knee jerk reaction to this would be to punch back with something like "you never stop talking!!"   Then the 3 R's would take power over us and it was all down hill.   Resentment, Rejection and Revenge.
When I think about how much I have grown as an individual during our marriage, it makes me so proud of us and our relationship.  I could not have all of these self realizations and growing opportunities if it were not for someone who loves me as deeply as Crystal Escobar does.  We still argue and disagree and even have a nice big blowup fight once in a while.  Difference is, now those are few and far between and we have gotten so much more skilled at overcoming them and quicker to forgive and forget.  Our love grows stronger and stronger.  We are both all in.  Marraige is not 50/50. It is 100/100 percent.
I want to share something I heard from Marjorie Hinkley that I know to be the absolute truth.  "Happiness in marriage is found when we stop trying to change the other person and learn to honor and appreciate the differences."    See I don't expect Crystal to go hunting with me.  She doesn't enjoy that.  She doesn't like sports.  She doesn't like to get really dirty, or do anything a little scary like riding four wheelers.  Nothing that could potentially get her hurt.  She doesn't like many action movies, no "shoot-em-ups".  Ok now my turn to be fair. I don't like chic flicks.  I don't like to listen to music a lot.  I don't like big parties or concerts.  I am bored to see fireworks, I feel like I have seen them before and don't really need to see them over and over.  ?  I am not a very tolerant person in a lot of ways.  Can be judgmental.   Church is almost painfully boring to me, has been ever since I was as a kid.  I don't like to read books.   I have a hard time with authority.   I don't like fancy restaurants.   I can be a cheap skate.  Ok so you get the idea.   I am controlling.  Crystal puts up with a lot!  She puts up with way more than I do!  I was just getting started on me.    ?
We are so different and we must serve one another and compromise  in order for the other to get to do the things they enjoy.  We have gotten good at doing that.  Yes once in a while I will watch a chick flick just for her!  Yes once in a while she will go to a sports thing just for me!   That is marraige, that is healthy, but don't  force your spouse to be what you are!  Realize that it was the differences that attracted you to one another!  That is the beauty of it.  You would never want to be with someone exactly like you, you could never tolerate them long term!   There is much I am not proud of within myself, but the magic is that I fill that void with Crystal.  She is so forgiving and tolerant. I find that in her and it rubs off on me!   I am very assertive and usually get what I want, Crystal wishes she had more of that in herself, and she finds that in me.   The notion that opposites attract is factual as far as I am concerned.   In Crystal, I found so many of the things I lacked in myself.  I embrace that!  I don't want her to be like me!  ?
I'll never forget one of my best friends saying to me about ten years ago, "Sean, how do you get your wife to be so creative and productive?"   Haha!  My answer back then is the same as it is today, "I do not."   If I was to try and force her to be anything other than what she is, she would surely resent me and push back.  I have merely learned to support her and cheer her on with whatever she wants to do. That has been a learning process too and I was not good at that at first. But I owe it to Crystal.  She truly would support me in ANYTHING I chose to do.  That amazes me.
Is being a great mom or dad enough?  I say it is.  The internet and social media has skewed all of our perceptions of what is successful.  I say if you have a great relationship with your spouse and your children then that is enough!  You don't have to go climb the 7 highest peaks or write a best selling book.  You don't have to run 50 marathons!   We need to return to a simple, happy life or at least that mindset.  I want to tell all of the moms out there, including my mom and my wife, it IS enough to be a great mom and/ or great wife. That equates to love and simple acts of service respected over time. What might even feel mundane at times.  The man that goes to work every day and comes home to spend time with his family, is simply building a body of work that will one day be revered by his spouse and children. Same goes for the wives and mothers who tend to their families every single day, all day long, it is remarkable and it is enough.  If you have the capacity to do more without falling out of balance then God Bless you!   This is not to say we should just accept mediocrity. We should learn to thrive within our roles and get better and better as time goes on.  We may not even realize we are growing until years and years go by.  I am much more patient than I was 13 years ago. I am more supportive.  Crystal is more assertive and less defensive.  13 years is not a very long time either!  We are going to keep growing together.  We will one day celebrate a 50 year wedding anniversary just like my parents have coming up!   I couldn't grow like this without her.  I have often wondered, how is it that many of the most successful people in history were married and had also had many children?   I'm ashamed to admit that in the past there has been a few moments of self pity, where I thought, I could be so much more successful if I didn't have all of these fatherly duties to fulfill.  This is not true of course, it is my calling as a husband and a father that gives me purpose and a reason to evolve into a better version of myself.  I want to work for them. I want to win for them. I want them to look at me and think, "wow, dad really loves us and he doesn't just say it, he shows it."   We all want that right?   So keep serving and keep the right perspective.  Your family is everything. My marriage is everything to me.  It is an investment we have made and as long as we are both contributing, it will continue to pay major dividends.   ?    By the way guys. Little tip for you. Want a happy marriage, buy your wife flowers and take her on a date weekly.   You get out what you put in!  Don't say you can't afford to.   Afford to.
God thank you for my sweet wife Crystal who you sent to me in answer to my prayers.   I am forever grateful and in your debt.   Crystal, happy anniversary to my favorite person in the world and my true love!   You make me so happy.
Love, Sean"