People struggling with digestive issues has become quite common these days. There are several reasons that cause the discomfort, bloating, indigestion, and constipation. The number one cause is antibiotics, the amazing scientific formulation that saves lives. Unfortunately like most medications they all come with side effects. The antibiotics kill all the harmful bacteria which is incredible, but it also kills all the good bacteria. Thankfully we don't need to say NO to antibiotics, we just need to be proactive and do our part to replenish the good bacteria that was lost during the cycle to improve gut health. Most doctors will recommend eating yogurt as a way to repopulate the gut with probiotics. But store bought yogurt usually has a lot of sugar, PLUS they are pasteurized, which means that most of the enzymes and helpful bacteria have been killed off.
I've been researching this topic for years and over time have included all sorts of probiotic packed foods, supplements and drinks to my daily diet.
Reasons you should be consuming probiotics!
•Boosts immune system.
•Prevents and treats urinary tract infections.
•Improves digestive function.
•Heals inflammatory bowel conditions like IBS
•Helps manage and prevent eczema in children.
•Fights against food-borne illnesses.
Top 4 ways to include probiotics in your diet!
#1 Capsule Form ~ Easy Living Nutra Probiotic
As many of you know I'm kind of obsessed with Kombucha. I make my own, but I know most people don't want to bother with making it and when you buy it at the store you can spend up to $4 a bottle. It gets pretty expensive to drink Kombucha daily if you don't make it yourself. So my number one recommendation for anyone, would be to buy a probiotic in capsule form. It's the easiest and quickest way to deliver those probiotics and improve gut health. But beware, not all probiotics are created equal. Most pill forms don't have the proper protective layer to make it past the stomach acid without killing off the bacteria. Easy Living Nutra capsules actually has a unique protective outer layer making it possible for the probiotic to travel more safely to the small intestine where it can continue the process of breaking down and releasing the probiotics.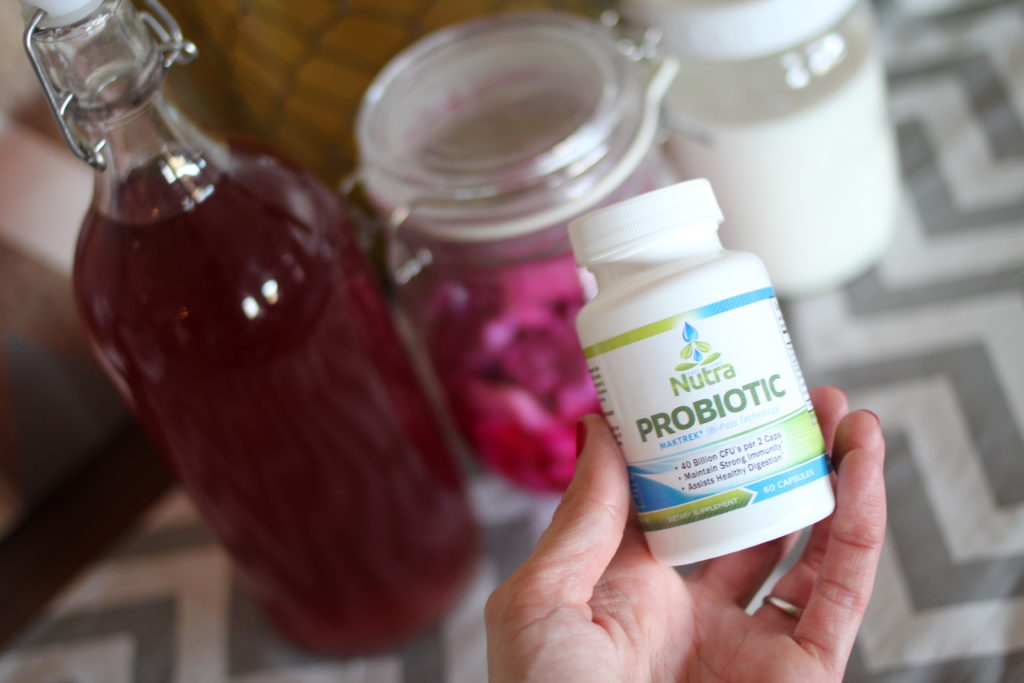 More about Easy Living Nutra Probiotic 
• Patent pending MAKTrek 3D 2 step acid protection – Loaded with 40 Billion or Probiotic 20 Billion CFU's.
• LAB TESTED – More effective than traditional probiotic supplements. Developed by a Doctor who specializes in gut health.
• THE BEST PROBIOTIC FOR MEN, PROBIOTIC FOR WOMEN, and KIDS – Allergen free and made in a GMP and FDA registered facility.
• IMPROVE IMMUNE SYSTEM – 80% of our immune system is out gut. Take care of your gut and feel the difference in your body's health.
• COMFORT AND ENERGY LEVELS – Freedom from stomach discomfort. Digestion Support, Chrons, IBS, acne, weight loss
For 20% off use coupon code: 20OFFELN
You can find it on Amazon .
#2 Kefir
Kefir is my second choice because it's the easiest thing to make and most people like the taste of it. You can also buy this at the store but be sure to check the sugar content. Flavored kefir just tastes like a drinkable yogurt. Kefir has 30-56 strains of good bacteria, and store bought yogurt has less than 10. This stuff is pretty incredible. I like to make my own because then I have control over what goes into it, and it's super simple to make. Usually I flavor mine with fresh fruit and stevia. Read my step by step instructions on How to Make Kefir from Home, plus one of my favorite ways to eat it is by making it into a sweet or savory Kefir Cheese spread. Watch my TV segment on ABC4 where I demonstrate how easy it is to make.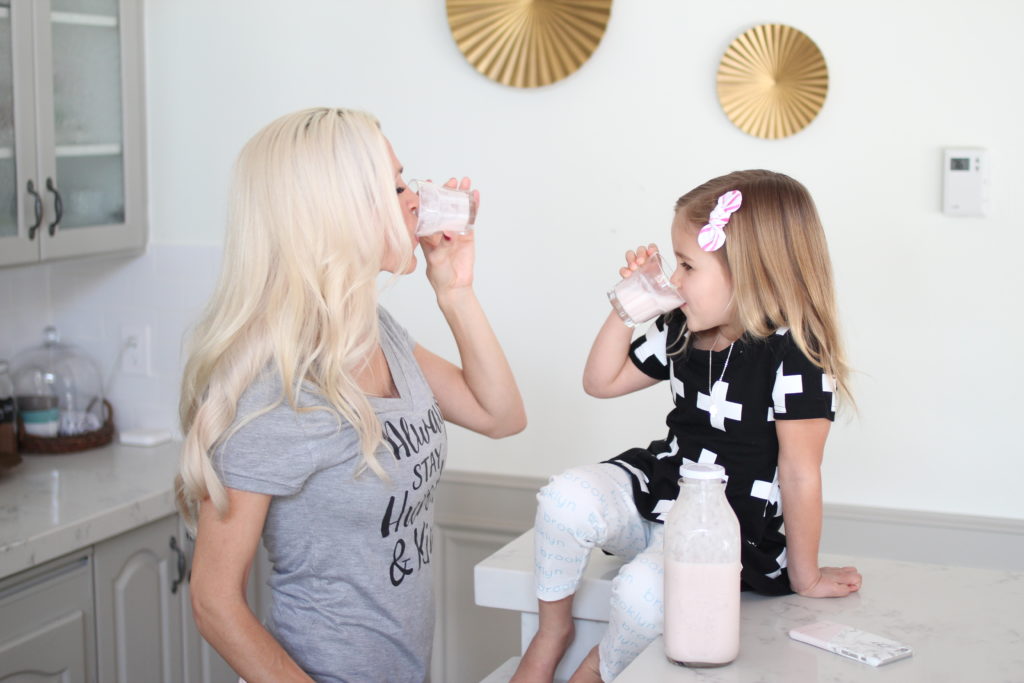 #3 Kombucha
Kombucha, ooooooh Kombucha. We kinda have a love affair. I've been teaching people How to Make Kombucha for the past 2 years now and I tell ya, it's my most favorite! It's number 3 on the list though because it takes a little more time to make AND not everyone likes the taste of it. For me though, I crave the stuff. I don't go a day without it and I've gotten myself into a pretty seamless Kombucha making routine. I got to demonstrate how to make Kombucha on TV a couple times. Check it out on ABC4 and Fox13.
#4 Sauerkraut
Making your own sauerkraut is also very easy to do, but again, not everyone likes to eat sauerkraut. I like to eat mine plain or simply add it to my salads or sandwiches. I love the crispy tart and sour taste.
Some of you may be thinking, wow, she's kinda over doing it with the probiotics. But guess what, each of these sources offer a completely different range of good bacteria, so it's always recommended that you consume as many different types as you can.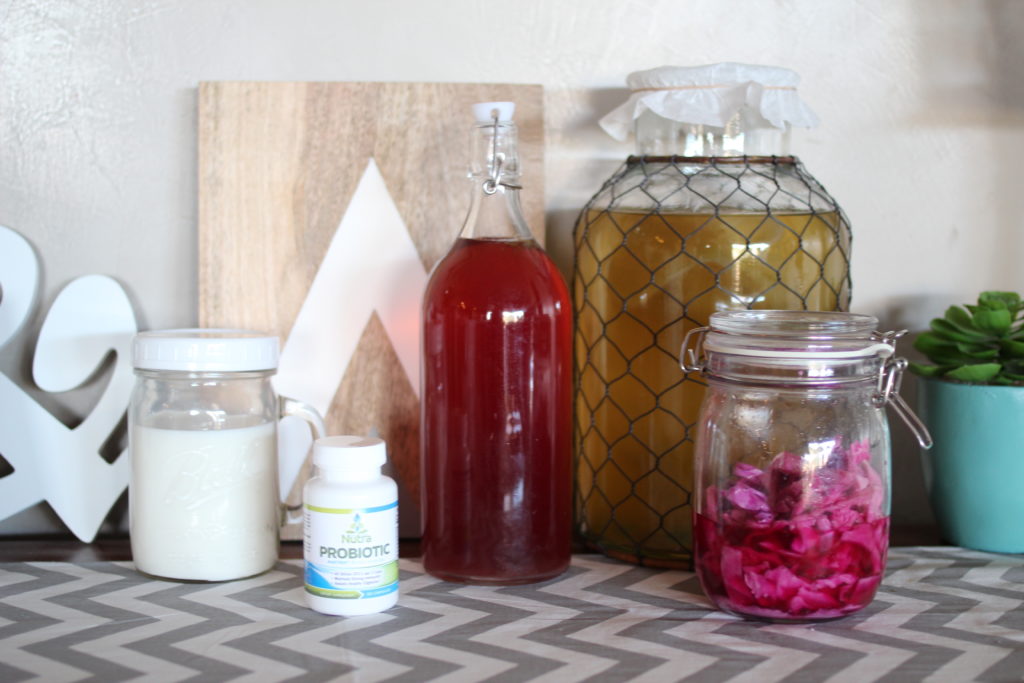 I can definitely attest to the fact that probiotics make a HUGE difference. One thing I've noticed the most is my immune health. I'm literally immune, knock on wood. I've only been sick ONCE in two years and it was just a cold that lasted a couple days. My kids have all had the flu multiple times, I've been covered in puke and sharing drinks with snotty nosed kids and I NEVER get sick. The Nutra probiotics are safe for kids too so I'm excited I found this because not all my kids like Kombucha and Kefir. For kids all you do is open up the capsule and pour the probiotic powder into a smoothie for them.
Did you know I have a YouTube Channel? Make sure you subscribe so you are updated when ever I upload a new video.