With Owen's 3rd birthday coming up I'm finding myself really emotional about the fact that I won't be having anymore babies. The other night I was literally googling "tubal ligation reversal surgery". I even suggested to Sean that maybe we should get my tubes "untied" and have another baby. He just looked at me and laughed…
Sean would have loved more babies but he knows me very well. In reality I can't image going through another pregnancy and year of exhaustion from staying up all night with a baby. And Sean's not so sure he wants to deal with the pregnant/sleep deprived version of me once again. I secretly resented him, and I think he may have sensed it.
So in honor of my last baby blues and closing that chapter of my life, allow me to share Owen's home birth story. I'll also add the birth video to the bottom of this post.
Owen is my 4th baby, but second home birth. The first two I had medicated in the hospital. My first experience with natural birth was with my third, Brooklyn, and to be honest, it was a lot harder than I expected. But I learned a lot and was able to have a much quicker labor with Owen. One of the things that really helped me was listening to hypnobirthing audios and reading the book Supernatural Childbirth
. Preparing the mind for a natural birth is absolutely essential.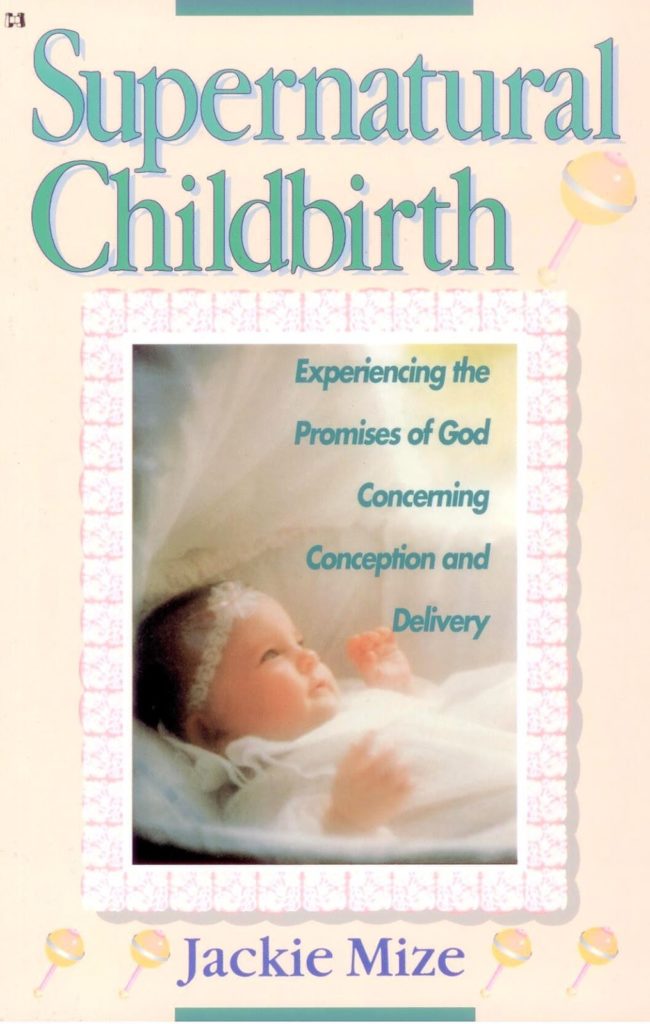 Owen's Home Birth
I had just gotten home from getting a nice prenatal massage. I sent a text to my midwife asking her when she wanted to come over for our next and hopefully our last prenatal appointment. I was like most women in their last week of pregnancy, getting extremely anxious. She said she had just delivered two babies recently and needed a day to recuperate. So that night, I had it in my mind that I did NOT want to go into labor. Very different from every other night the previous week. It was about 11:30 at night, Sean and I were in bed watching a show together when I started noticing some light contractions. I thought they were just some Braxton hicks, but then they seemed to be coming pretty frequently. I thought, shoot, not tonight, of all nights, just not tonight. So I waited a little longer and the contractions continued to come. I got out of bed and started cleaning everything like crazy. Doing laundry, dishes, cleaned my bathroom, cleared everything off my bathroom and bathtub counters. I wanted everything to be perfectly ready just in case.
After I was done with that, I was going to try to get some sleep. Before I got into bed I went to the bathroom and noticed some blood in the toilet. I thought, Oh boy, this is really happening tonight. I began to time the frequency of my contractions and found they were coming about every 4 minutes. I went in to tell Sean. He had just barely fallen asleep. He got right up and was ready to go.  We then preceded to get even more ready for our home birth. I sent a text to my midwife and photographer just giving them a heads up. I brought my fitness ball upstairs, turned on my essential oils defuser with lavender oil, Sean made me some tea, got my birthing audios playing in both the bathroom and bedroom, and filled the tub. We got some candles going, set up some seating, put cushions in the tub and outside of the tub, and got a bunch of towels out ready to go. I did my hair and put on a little make up too :). I had to look good while giving birth.
So finally I felt ready to relax and focus on labor. I first sat on the fitness ball for a while, just rolling my hips around. Sean was there by my side catering to my every need, getting me drinks, giving me massages, and just making me feel relaxed. This time around I wanted to labor more without everyone there. With Brooklyn's birth I called everyone over right away and found it hard to focus on relaxing. So it was nice to be alone with just Sean and I for a while. I got to a point where I started shaking a little. I was trying so hard not to let fear into my mind. The contractions were getting more intense and I was beginning to fear the pain. I suggested we say a prayer together. I needed God's help to keep me calm, and praying really soothed me. It was about 3am and Sean knew things were progressing fast so he called over my midwife and photographer.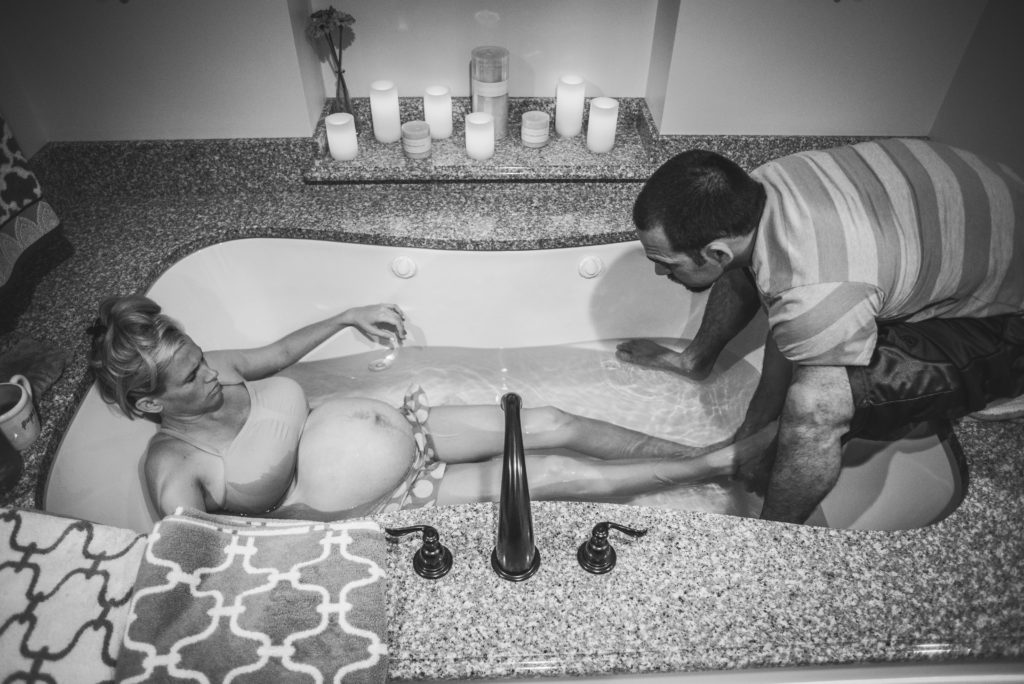 I decided to get into the bath. I labored in there for about 20 minutes, then my midwife came. She checked the baby's heart rate, then I asked her to check me. I wanted to see how close I was to 10 centimeters. She checked and I was 8 centimeters dilated. I was relieved to hear that and felt proud that I had managed the pain so well.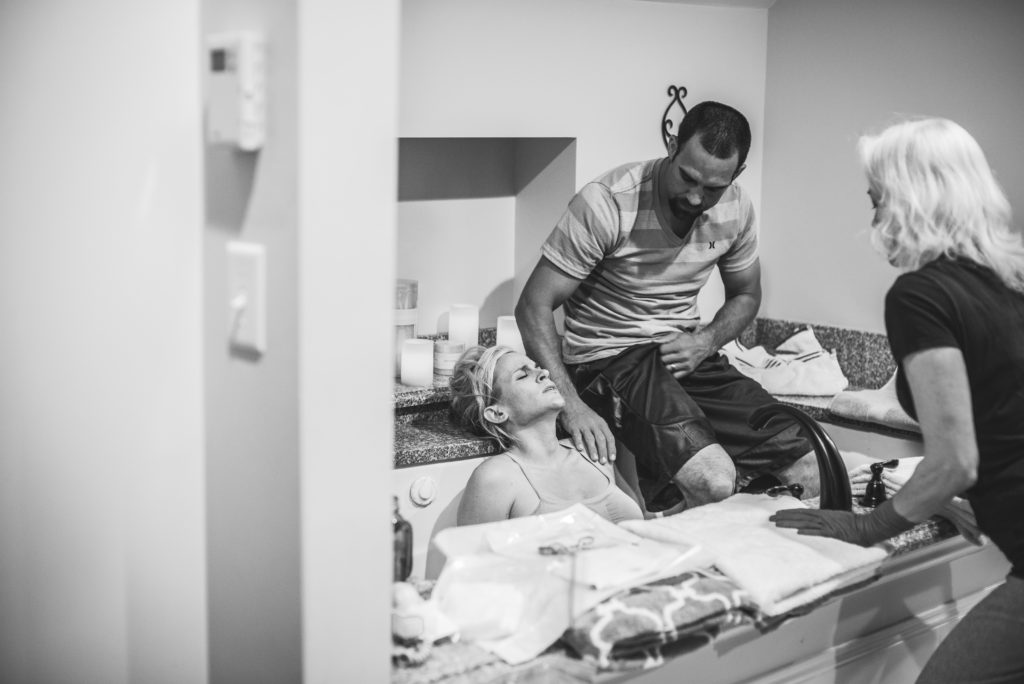 I decided to get out of the bathtub for a bit. I thought I might try some different positions, thinking the contractions would be easier. I first went to the bathroom, I sat there for a minute until a contraction came. It was so intense I felt the urge to push. I got up as fast as I could after the contraction was over and Sean helped me get right back into the tub. I knew I was getting close. I had about 3 contractions that were so unbearably hard I began to get discouraged. I was remembering Brooklyn's birth and how I had to endure those hard contractions for a whole hour. I just couldn't imagine having to do that again. Sean was amazing, he was coaching me and giving me words of encouragement. Then the next contraction came and I just had to push. As I did, Owen's head came right out. I was so relieved his WHOLE head came out instead of just half way like Brooklyn's did. This gave me a little break until the next contraction came and I pushed the rest of him out.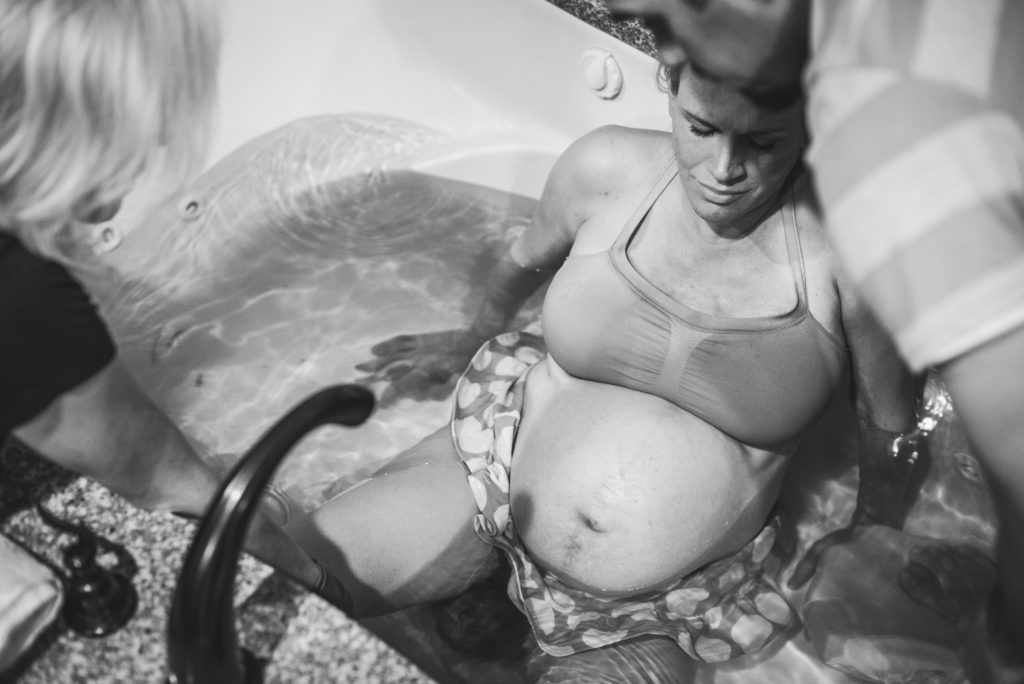 I was overwhelmed with happiness. Happy to be holding my baby boy after 9 months of anticipation. Happy that he cried and started breathing right away. Happy that the labor went so quickly and that our home birth was so beautiful. It was just all out amazing!
Right away we sent someone down to get Oliver and Lily. Oliver was too out of it I guess and said he'd be up in a minute. Lily of course came right up and was so excited. Oliver came up a little while after, took one look and went right back down to bed.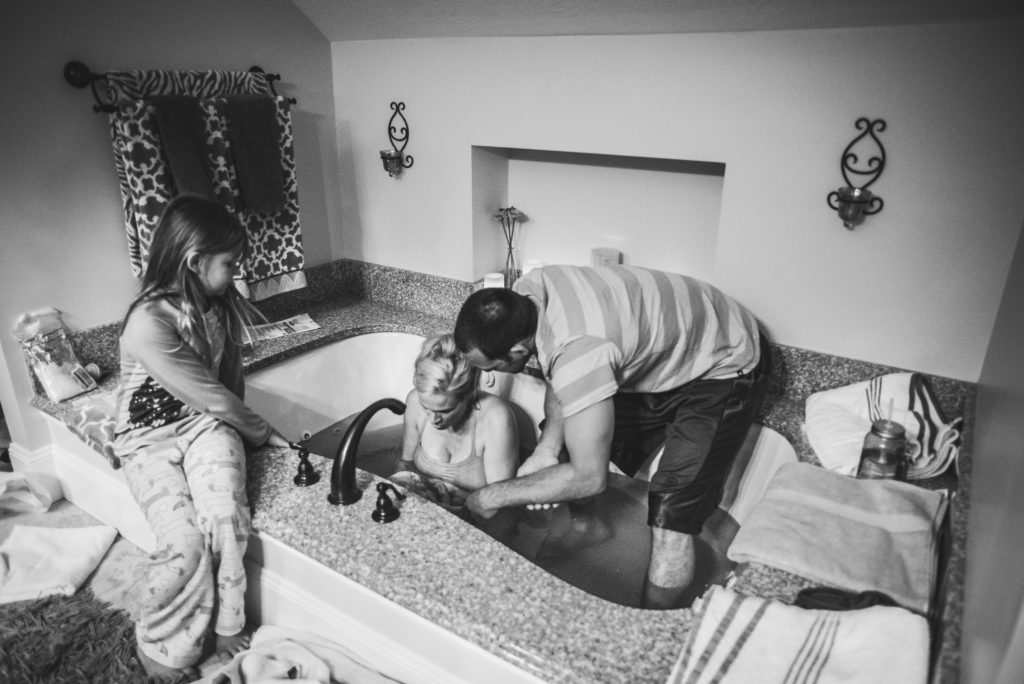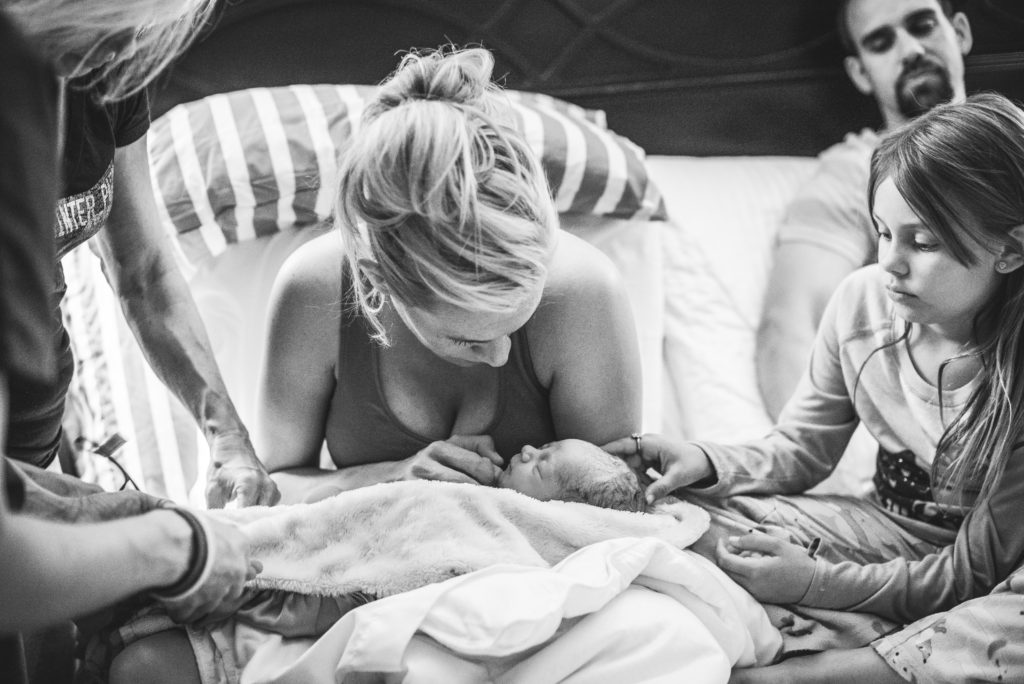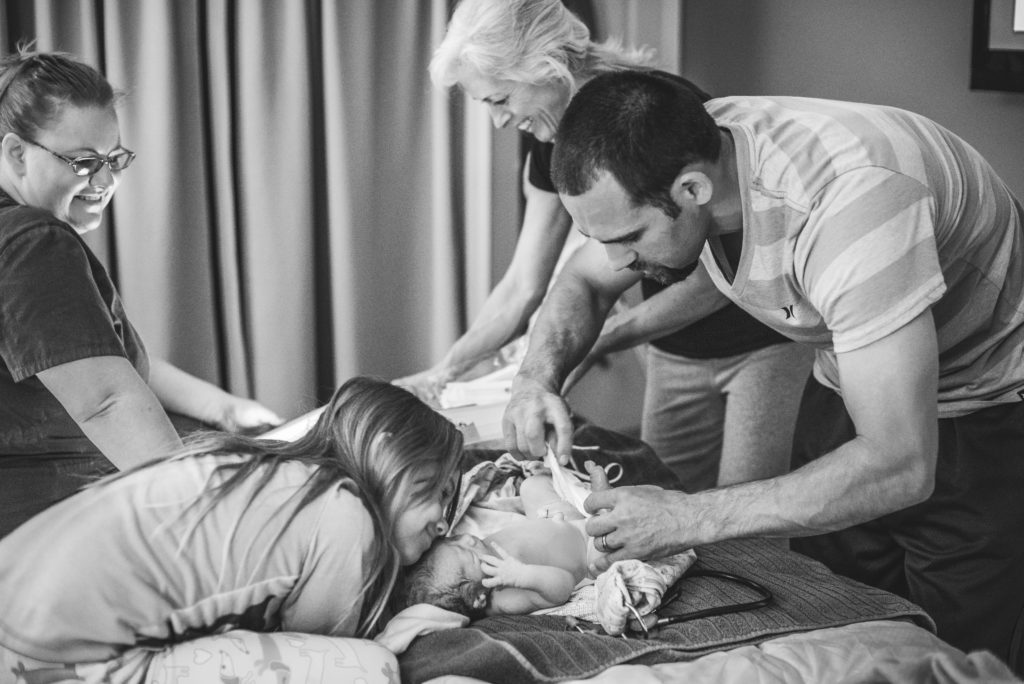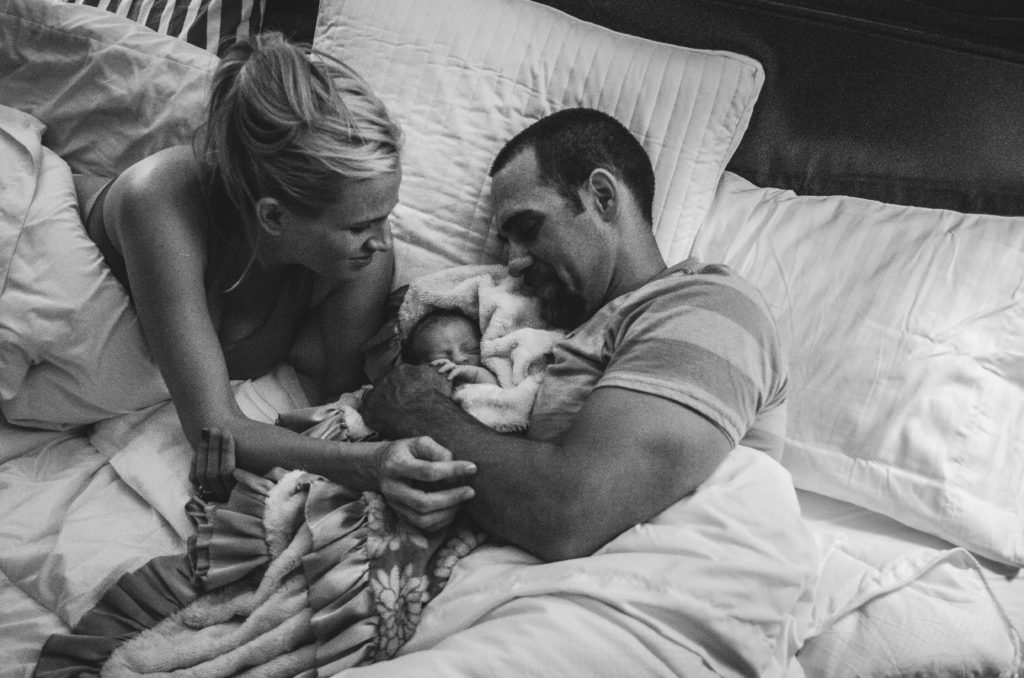 I felt amazing afterward. Our home birth went exactly how I had imagined it over and over in my head. I didn't need any stitches. I loved that I chose to labor and deliver in my master bed and bath this time. I loved being in my own home. I love that my kids could be there so soon after. I loved getting to sleep in my own bed WITH my husband. A few of the many perks of a home birth.
At 6:00am everyone left and Sean and I got into bed with our little baby boy. I tried to sleep but wasn't able to. I was on such a high. Brooklyn woke up at 7:30. Sean brought her into our bed. We didn't say anything about the baby yet. She fell back to sleep for about an hour until she was awoken by little baby Owen crying. She jumped right up and said, "my baby"! I grabbed him out of the basinet and brought him to her. She was so adorable I wish I had it on video. She was all giddy and excited, just kept saying, "oh, my baby Owen, he came out".
I couldn't be happier with the way things turned out. Love my baby Owen :). Thank you to my wonderful midwives Melissa and Heidi. Thank you to my incredible photographers Stacey and Corinne. And of course thank you to my most amazing husband Sean! I couldn't have done this without you.
Here's the home birth video. You might also like to see the longer version HERE. If you want to know more about his birth defect then check out THIS VIDEO I made recently.